Welcome to the Town of Tralee News Site!

We hope that this new website will provide everything you ever wanted to know about what's happening in Tralee town. A particular welcome to Tralee if you are visiting our town. We hope you thoroughly enjoy your stay and take home with you many happy memories of our beautiful town and environs. We welcome visitors at all times of the year and we have a treasure-trove of attractions to cater for all tastes and climatic conditions.

The following are some news items which we have covered over the last number of months: the Jeanie Johnston ship project, the launching of Kerry's new music radio station, R2K, and the Samhlaíocht Chiarraí Festival. Other events included the Teachers Union of Ireland Conference, the Pan Celtic Festival and the Cultural Exchange Concert. Friday 5th May was Telethon Day - the day when people decided to do crazy things to raise much needed funds for worthy causes all around the country - and Tralee certainly did its bit! Check it all out here!! Also check out the Musicians of the Future Concert held on Sunday 7th May in Siamsa and the Choral Union held it's People In Need Concert on Sunday 14th May. Also don't forget that the Kingdom County Fair was on in Ballybeggan on 13th and 14th May and you can get full details here! On Saturday night 20th May the annual Kerry Rose of Tralee Selection Ball was held in the Brandon and we were there!

On Tuesday 30th May Tralee's newest attraction was officially opened - the Aqua Golf facility at the Aqua Dome. On Thursday 1st June the London Welsh Male Voice Choir performed in the Brandon Conference Centre in a charity concert and the TraleeTown.com report is here. Also check our new Train Timetables From and To Tralee Station on-line!

Our newest addition to the site is our Links page - check it out and suggest a link here! On Tuesday night 20th June this year's Rose of Tralee Festival was launched in the Brandon and we were there! We also met Sonny Knowles and attended the 29th Kerry Community Games Finals. Tralee's new Cathaoirleach was elected on Wednesday 5th July at the offices of Tralee UDC and Traleeman, Fr. Liam Lovell, was ordained in St. Brendan's Church on Sunday, 9th July.

The mood of the town was uplifted considerably (as was the sales of ice-cream and cold drinks!) on 21st July when the long-promised Summer weather arrived and Tralee basked in Mediterranean-like temperatures, which reached 27 degrees! On 25th July the waiting was finally over and the Millennium Sculpture Competition result was announced. The Dove of Peace sculpture by local man, John Joe Sheehy, of Ballinorig East, will now be officially commissioned by the UDC.

The immensely talented actor, Sir Alec Guinness, died on 5th August and two Tralee men, Seamus O'Mahony and Paddy Duggan remember him and his films.

We've now added a What's On Section to our website and we hope that you will find it useful for checking up on the latest upcoming events! If you would like something included, please contact us.

The full Rose of Tralee 2000 Festival programme is published here! You can also see the 28 Rose Contestants here and get details of the Festival happenings! here. Check up on the last Tralee Race-Meeting of the year here. Also in sport, read about the demand for tickets for the All-Ireland Football Championship Replay between Kerry and Armagh in Croke Park on 2nd September and a report on Kerry's victory here!

On Sunday 3rd September, Tralee man, Kenneth Rice gave an outstanding performance of the music of Viennese violinist Fritz Kreisler in Siamsa and we were there. And the first Kerry Harvest Fair was held in Tralee from 2nd to 3rd September and you can see what happened here!

The streets of Tralee were filled with blaring horns and roaring engines as members of the Irish Road Hauliers Association brought their one-day "Go Slow" protest to town on Friday 15th September - the official starting day of the Sydney Olympics 2000!

On 16th October news about a new Development Strategy for Tralee to provide an imaginative and robust framework for the future growth and development of the town was announced by Tralee UDC and Kerry County Council. Your assistance is needed! Find out about the Land Use and Transportation Study (LUTS) here!

Hundreds of delegates from all over the country visited Tralee on Wednesday 18th October when the Kerry Federation of the Irish Countrywomen's Association hosted it's first National Conference since 1993 in the Earl of Desmond Hotel.

On 2nd November there was much relief in the chambers of Tralee Town Hall when the Council unanimously accepted the County Manager's recommendation that extra funding of £400,000 be provided to the Jeanie Johnston Famine-Ship Project, to enable the work to continue with a view to staging her much-heralded Transatlantic Voyage to Canada and the US in the Spring of next year.

The Teachers Union of Ireland Kerry AGM was held in the Grand Hotel, Tralee on 15th November and National President, John McGabhann, told members to be prepared for industrial action, which would result in chaos!

The Annual Report of Tralee Urban District Council for 1999 has just been published but you needn't worry about getting your hands on the printed version because you can read it exclusively on-line here at TraleeTown.com!

The Tralee Lions Club congratulated the nominees for the Annual Youth Awards Competition in the Grand Hotel, Tralee on 16th November and the overall winner who was selected to receive the coveted Award was Ross O'Connor from Spa Road.

Exasperated motorists who regularly try to get from one side of town to the other will be interested in the new roundabout which Kerry County Council is placing at Upper Rock Street. See the setup as it is today before all is changed by Christmas!

Although many people (and children!) silently hoped for a White Christmas this year, very few really believed it would happen. But lo and behold on Wednesday 27th December the snows came and turned the town and environs into a Winter Wonderland. However there were some who would have preferred if the white stuff had stayed away ... After-Christmas Sales Fever also struck.

The New Year came to town with plenty of rain but with it also came Kerry's first-born of the year - a baby girl born to Tralee couple, Pat & Anne Moynihan, just hours into the year 2001. Check out the details here!

Rumours flew back and forth during January that the John Mitchel's GAA Club was about to sell it's headquarters in Boherbee and move out of town. The question on everyone's lips was "Where were they going to go?" Read about their options here!

Plans are well underway to have the new Mercy Secondary School at Mounthawk completed in time for the new school year beginning in September 2001. On 30th January we can show you an exclusive model of the New School and full details of the development...

There was never as much glitz, glamour and panache to be seen around town as there was from 1st to 4th March when the Celtic Classic Ballroom Dancing Championships were staged in the Brandon Conference Centre. It was a dazzling spectacle to behold and congratulations to all involved in organising this mammoth event.....

At their Monthly Meeting on 5th March, Tralee Urban Council considered a Report on a proposed move from the existing Town Hall back to the Ashe in Denny Street. Consider their deliberations here...

The concert isn't on until August but that didn't prevent fans from queuing all night in the Square to buy tickets to the U2 gig in Slane, when they went on sale at 7:00am on Saturday 10th March .... All 80,000 tickets were sold within an hour and many were disappointed.....

The Teachers Union, ASTI, instructed its members to resume strike action in support of their pay claim and Tralee schools were affected on Wednesday 14th March by the first in a series of planned stoppages.

The Tralee UDC marked Easter Sunday with a Commemoration Ceremony at the Town Hall, at which the National Flag was raised and the 1916 Proclamation read. Afterwards an oration was given in Páirc an Phiarsaigh by Cathaoirleach, Cllr. Miariam McGillycuddy.

The Easter Bank Holiday provided an ideal opportunity for the whole family to get out of the house and the annual Kerry Home, Garden and Motor Show (which had been scheduled to run over St. Patrick's weekend but was postponed) was the place to go for a whole range of things to see and do. The Dome provided the ideal venue for the 45,000 visitors.

It had never been done before but Trinity College, Dublin decided that 2001 was going to be the year they visited Tralee - and they did ... on 3rd May in the Grand Hotel. The reason? Check it out here.

We hope that you will find the coverage and exclusive photographs of our news items of interest. If you have any news that you would like others to have access to, then do contact us.

Your views and input are always welcome and, while we do not guarantee to publish all material sent to us for publication (the editor's right to edit material is always reserved), we welcome and encourage all feedback from our visitors.

We are delighted at the response which we have received to the new site - we have had visitors from Australia, Bermuda, New Zealand, the US, the UK, Italy, Germany, France, Finland, Sweden and Malaysia!! The Tralee Town Directory of businesses and organisations is being compiled and should be ready for publication on-line shortly. Thanks for your patience.

Also thank you all for your time and interest and the efforts you are making to make this the success we know it will be.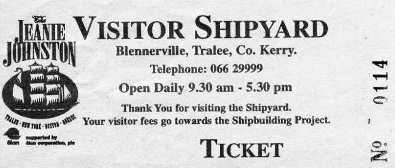 Check back often!!
... Oh, and don't forget to sign our new guestbook before you leave.




© 2000 TraleeTown.com and Tralee-Town.com are copyrighted Internet Domain Names. All photographs of Tralee & associated news items are exclusive to TraleeTown.com and are copyrighted. All submitted material will be accepted as 'for publication' unless specifically marked otherwise.



This site is best viewed using: