The Irish Lighthouse Series Postcard Collection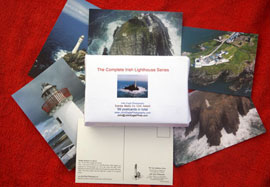 The Series took me over ten years to complete, a great deal of love and attention went into the project and I hope you will enjoy what I have done. You can view all the postcards I have ever made by clicking on Catalogue
The postcards are available in one complete set, or in sets per county . If you would prefer to pick an assortment from various parts of the country then please do so, and contact me for a price.
You can Mix and Match postcards, buy only what takes your fancy click here Some from this county, some from that & some non lighthouse postcards as well perhaps
Click on Counties tab to choose small amounts of postcards. There you can buy the postcards of the counties, like County Cork, Kerry etc.
In 2007 I replaced some old lighthouse postcards with new ones, click here to see them
I wish to thank the Commissioners of Irish Lights and Irish Helicopters in particular for without their combined help I would not have come close to getting this project completed in the way I have done it articular the pilots Captain Mick Conneely, Capt Colm Martyn, Capt. Pete Hodges and Captain Mick Hennessy who flew me.
I very much hope you enjoy your visit to my Irish Lighthouse website....John Eagle