---
Walking
If walking is your pleasure, then there are numerous routes to choose from. There are lakeside, forest, hill, mountain, bog and riverbank walks with breathtaking views of an awesomely beautiful landscape. Long or short walks, there's a walk to suit most people. The Waterfront House has specially detailed ten walks for you to experience the complex topography of the surrounding area and offering the visitor a priceless treasury of Irish heritage, both in human terms as well as a rich bounty of flora and fauna.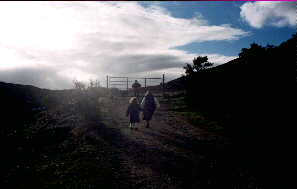 These walks are written with the intention of keeping you off the main road as much as possible. However, please remember that you are still walking on public roads. You must walk on the right hand side of the road, against the flow of the traffic. If you are cycling, or driving, you must travel on the left hand side of the road with the flow of the traffic. Please try to keep in single file as much as possible. You venture on these walks at your own risk, so please be vigilant. Please respect the countryside and remember to take your litter home with you. After all that have a wonderful time discovering our little bit of heaven.
9 out of the 10 walks can be driven, so no excuses!!
Needless to say, you can take your bicycle with you on all the walks. Thank you.
Please click on any of the following links to take you to the respective walk description and picture:
---
Walk No. 1
Leitir Road Walk: scenic, mountain, valley, bog, forest
Walk No. 4
The Owenriff Way Walk: riverside, village
Walk No. 6
Doon - Raha - Cloosh Walk: scenic, countryside
Walk No. 7
Bunnagippaun - Waterfront House: scenic, mountain
Walk No. 9
Rocks Road Walk: scenic, tranquil, rocky
Walk No.10
Derraura Wood Walk: scenic, mountain, forest