---
Coarse Fishing in the west of Ireland
The Moycullen-Rosscahill-Oughterard Lake District
"A Coarse Angler's Paradise"
Eleven coarse fishing lakes, all holding: Bream, Roach, Rudd, Perch, Eel, Pike and Roach/Bream Hybrids.
---
The Moycullen-Rosscahill-Oughterard lake district offers a magical combination of great fishing, unbeatable hospitality and wild, unspoiled countryside - "You can find yourself fishing in complete solitude during the day, (often with a whole lake to yourself) yet, in the evenings, great night life is never too far away."(Dave Coster, writing in the "Ireland West - The Coarse Angler's Paradise" Booklet)

The largest lake in this area measures about 400 acres with the smallest measuring about 6 acres. Most of these lakes drain into the massive Lough Corrib, which is sometimes referred to as "an inland sea" with its 42,000 acres.

The Western Regional Fisheries Board have developed a number of these lakes and most have excellent access, top-quality fishing stands, stiles and footbridges, with two stands specially built for disabled anglers at Ballyquirke Lake and Ross Lake.
With these facilities there are now several hundred "swims" available for anglers.

The waters give good Roach fishing over most of the year, but usually best from April to December. Hybrids are always plentiful in summer and early winter months. Roach to over 1lb. and Hybrids to over 3lb. are common. Bream fishing is best from April and skimmers are plentiful the whole year round. Bream to over 9lb. have been caught in Ballyquirke Lake. Tench are also present in most of the lakes but are often hard to locate because of the size of the waters.
---
The Western Regional Fisheries Board
Weir Lodge, Earl's Island, Galway, Ireland.
Tel: +353 91 563118 / +353 91 563119
Fax: +353 91 566335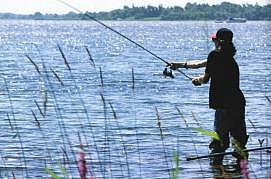 The Western Fisheries Region comprises all the inland river systems on Ireland's Atlantic coast from Pigeon Point near Westport, Co. Mayo, through Co. Galway, to Hags Head just south of the Cliffs of Moher in Co. Clare. The region offers a wide range of game angling, shore and deep sea angling and some excellent coarse fishing.
The Board, established under the 1980 Fisheries Act, has statutory responsibility for the management, conversation, protection, development and promotion of the fisheries within its region.
The Western Regional Fisheries Board has provided access, parking, fishing stands (a number for disabled anglers), stiles and footbridges at eight of the Rosscahill-Moycullen Lakes; Ballindooley Lake, near Galway City; Lough Aclaureen, near Tuam; four of the Irishtown Lakes, Ballindine, Co. Mayo; Clare Lake, Mayfield Lake and Lough Na Nannagh, Claremorris, Co. Mayo.
For further information contact: The Western Regional Fisheries Board.
---
See the typical Species of Coarse Fish to be found in Ireland
Check out the statistics on what Tackle to use and the Best Times to fish for the different Species of coarse fish in the area.
Check out Jim Finn's wonderful site for details of Fishing Trips, Reports, On-line Store, Fishing Tackle, Beginner Classes, Product Review, Orvis Service, etc,. Anything to do with Fishing, contact Jim, at the Mossy Creek Fly Shop, in the heart of the Shenandoah Valley.
---
| | | | |
| --- | --- | --- | --- |
| | | | |
| | | | |
---
© 2009 Waterfront House Country Home
Corrib View, Oughterard, Connemara, Co. Galway, Ireland.
Telephone: ++ 353 91 552 797 Facsimile: ++ 353 91 552 730
This is a Browser Friendly site, designed and
maintained by the Waterfront House
Submit a Site to us
Back to the top