---
Aughnanure Castle
Aughnanure Castle stands stately on the outskirts of Oughterard and only a short stroll along a winding country lane from the Waterfront House and the Oughterard Golf Course. The word 'Aughnanure' itself comes from the Irish "Achadh na n-Iubhar" which translates to "The Field of Yews", as the area is surrounded in woodland containing, amongst others, an abundance of Yew trees.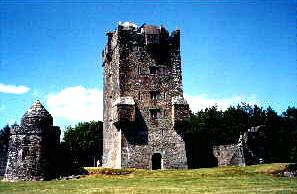 Standing on what is virtually a rocky Island, the Castle is a particularly well-preserved example of an Irish tower house. The Castle was built in the 16th. century as a stronghold of the O'Flaherty clan, and is renowned for its double bawn.
Open: Daily from late Spring to end Autumn.
Time:09:30 - 18:30

Guided Tours:Max. 20

Access to Castle grounds is restricted for wheelchair users.

Facilities:Exhibition and toilets, public car/coach park close to site.
Other Heritage Sites in Ireland
---
| | | | |
| --- | --- | --- | --- |
| | | | |
| | | | |
---
© 2009 Waterfront House Country Home
Corrib View, Oughterard, Connemara, Co. Galway, Ireland.
Telephone: ++ 353 91 552 797 Facsimile: ++ 353 91 552 730
This is a Browser Friendly site, designed and
maintained by the Waterfront House
Submit a Site to us
Back to the top