---
Welcome inside the Waterfront House
The house is designed so that the visitors have access to the bedrooms, dining area, sitting room and bathroom day and night. In other words, while you are staying with us you have total freedom to come and go as you please without being disturbed or disturbing anybody.
Our rooms......
Non-smoking.
All our bedrooms are non-smoking and are fitted with a smoke detecting system. We have two types of rooms: Double rooms that have one Double bed, and, Double/Single rooms that have a Double bed and a Single bed. Singles occupying a Double room are charged extra. See our different rates.
A Comfortable night's sleep.
The rooms are bright and airy with orthopedic beds for a very comfortable night's sleep. We are situated at the end of a winding country lane in the middle of prime farming land on the shores of the Corrib, so the only noises that are likely to keep you awake would be that of Mother Nature Herself being busy!!
Cozy
The house has central heating throughout with thermostatically controlled valves fitted which keeps the house uniformly heated and stops it from being too warm or too cold. With the addition of fully insulated walls, ceilings and floors and double glazed windows and doors the house is just as comfortable in winter as in summer.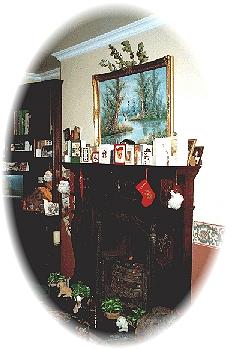 Relax in our very comfortable and spacious sitting room with
its large open fireplace and spectacular view over Lough Corrib.
TV.
Each room has a remote control colour TV that has the volume pre set so that you can not turn the sound up too high so as to disturb those in the neighbouring rooms. Most people like to watch a film when they retire for the night and nearly everybody watches the News channel in the morning to keep in touch with the real world, and to see what the weather is going to do to enable them make final plans for the day.
Direct Dial Phone.
You have access to the outside world through the direct dial telephone that is installed for your benefit and not for us to make a profit on!! The call rate from the phone is set at local rate - so there is no need to hop out to the local phone boxes to make calls.
Power-showers.
The power-showers are thermostatically controlled to give you a most pleasant and invigorating experience and will keep whatever setting you choose without having to continually adjust it. A hairdryer is provided for your convenience afterwards.
Spectacular Views.
The rooms to the front of the house are east facing and have panoramic views out over the lake. The rooms to the back face west having views of the Connemara Hills - over which, weather permitting, you can witness the most spectacular and dramatic sunsets imaginable!!

---
| | | | |
| --- | --- | --- | --- |
| | | | |
| | | | |
---
© 2009 Waterfront House Country Home
Corrib View, Oughterard, Connemara, Co. Galway, Ireland.
Telephone: ++ 353 91 552 797 Facsimile: ++ 353 91 552 730
This is a Browser Friendly site, designed and
maintained by the Waterfront House
Submit a Site to us
Back to the top