---
Walk No. 4
The Owenriff Way Walk:
3 km. / 1.9 miles (approx.) in length.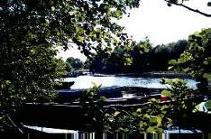 This short walk takes you around the northern side of the village of Oughterard, and is almost entirely along the banks of the Owenriff River, upon which Oughterard is built.
The walk takes you by the river and the boathouse where you can see the local fishing boats moored along the banks in their numbers. Over a narrow little bridge into the quiet townland of Eighterard back along the river again and finally down the main street of Oughterard to finish your walk where you started.
As this walk is almost entirely along the banks of the river, great care must be taken if there are juniors taking part in the walk. Crossing the Glann road can also be very dangerous, especially in Summer, as traffic can be quite busy - so observe the rules of the road....
---
| | | | |
| --- | --- | --- | --- |
| | | | |
| | | | |
---
© 2009 Waterfront House Country Home
Corrib View, Oughterard, Connemara, Co. Galway, Ireland.
Telephone: ++ 353 91 552 797 Facsimile: ++ 353 91 552 730
This is a Browser Friendly site, designed and
maintained by the Waterfront House
Submit a Site to us
Back to the top