---
A Golfers Paradise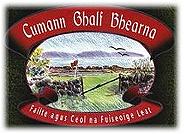 Set amidst the celebrated beauty of west of Ireland landscape on the fringe of Connemara, and enjoying commanding views of Galway Bay, the Burren, the Aran Islands and rugged hinterlands, Bearna Golf course is already being hailed as one of Ireland's finest.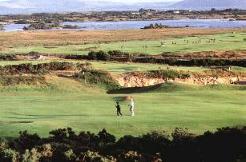 More than 100 hectares of unique countryside has resulted in generously proportioned fairways, many elevated tee-boxes, and some splendid carries. Water comes into play at thirteen of the eighteen holes, each one boasting unique features and which together test the golfers total repertoire of skills. The final four holes especially provide a spectacular finish to a satisfying and memorable experience.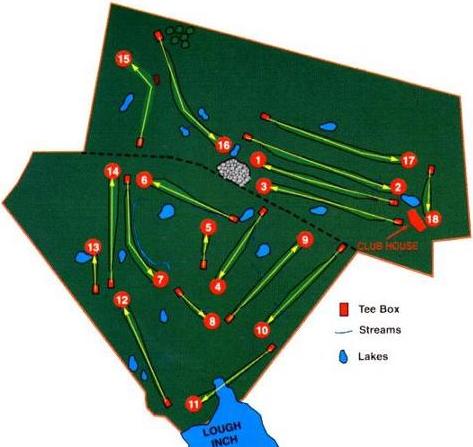 The Club's motto is "Fáilte agus Ceol na Fuiseoige leat" which means "Welcome, and may the lark-song accompany you" and is intended to signal the tranquillity and reception which awaits the visitor on every fairway. The skylark's trill, the seagull's cry, the scampering of the hare into the deep rough, the startled flap of the wild duck feeding in stream or lakelet, and the jumping of wild trout in Lough Inch or The Forbidden Lake are just some things which vie with the golf-ball for attention, and bring the player into a more intimate relationship with nature and self.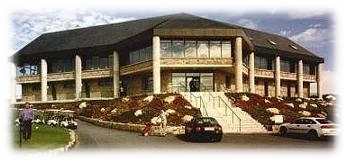 A Golfer's Paradise
The Holes in Metres
Hole
Blue
White
Yellow
Green
Par
Index
The Holes
Par
Index
Red
1
388
375
360
340
4
3
Corr Buaille
(The knoll of the Milking Place
4
3
324
2
450
403
368
355
5
17
Iomairí an Ghorta
(The Famine Ridges)
4
13
269
3
356
345
320
300
4
11
Cloch na Cinniúna
(The Stone of Destiny)
4
5
322
4
350
340
295
280
4
5
Loch na mBreac
(The Lake of the Fish)
4
1
299
5
196
175
166
152
3
9
Na Ceannacháin
(The Bog Cotton)
3
17
137
6
405
345
295
269
4
1
Sean-Bhóthar na Móna
(The Old Bog Road)
4
7
268
7
510
470
400
365
5
13
Siúlóid Fhada
(A Long Walk)
5
11
374
8
180
168
162
155
3
15
Cumar na nUiscí
(The Meeting of the Waters)
3
15
129
9
402
365
357
315
4
7
Na Siáin
(The Fairy Hills)
4
9
304
Out
3237
2986
2723
2531
36
35
2426
Space
Here
10
362
315
305
290
4
4
Machaire na nGiorriacha
(The Plain of the Hares)
4
6
283
11
350
328
300
255
4
6
Ionnsaí na hInse
(The attack on Lough Inch)
4
4
262
12
450
440
396
395
5
12
Eanach na bhFaoileán
(The Marshland of the Seagulls)
5
12
306
13
120
115
110
105
3
18
Loch Toirmeasctha
(The Forbidden Lake)
3
18
100
14
330
305
275
248
4
14
An Léana Draíochta
(The Enchanted Fairway)
4
14
252
15
345
338
312
290
4
8
An Tulán Cleasach
(The Mischievous Mound)
4
10
274
16
350
336
326
312
4
2
Na Péinní Siosarnacha
(The Whispering Pines)
4
2
313
17
460
425
400
366
5
16
Mullach na Mallacht
(The Ridge of the Curses)
4
8
358
18
170
158
136
125
3
10
Ladhar na Bó Bradaí
(The High Ground of the Thieving Cow, Between two Valleys)
3
16
110
In
2937
2986
2540
2386
36
35
2258
TOTAL
6174
5746
5263
4917
72
70
4684
Space
Here
SSS
73
72
71
69
70
---
---
| | | | |
| --- | --- | --- | --- |
| | | | |
| | | | |
---
© 2009 Waterfront House Country Home
Corrib View, Oughterard, Connemara, Co. Galway, Ireland.
Telephone: ++ 353 91 552 797 Facsimile: ++ 353 91 552 730
This is a Browser Friendly site, designed and
maintained by the Waterfront House
Submit a Site to us
Back to the top