I was very saddened to hear the news (from Titch Maher) on Tuesday night of the death of Ted O' Regan. His contribution to the arts in Waterford and to the emergence of Red Kettle as a company and Jim Nolan as a playwright will ensure the lasting gratitude of the theatre community to this remarkable man. The arts in Ireland owe so much to the passion and dedication of people like Ted O' Regan and I would like if you could convey my sympathy and those of our theatre to his family at this sad time of their bereavement.
Ben Barnes (Abbey Theatre)
Received notice from CREATE (formerly CAFÉ) about Ted O'Regan's passing. I am very sorry to hear the news, which I just got.
Perhaps you can pass on my condolences to the O'Regan Family.
He was a great inspiration & I know he was a great friend and influence for you.
Hope to contact you again soon.
Ni mhaith liom do bris
Ar dheis De go raibh a h-anam
Mel MacGiobuin (Poet and performer)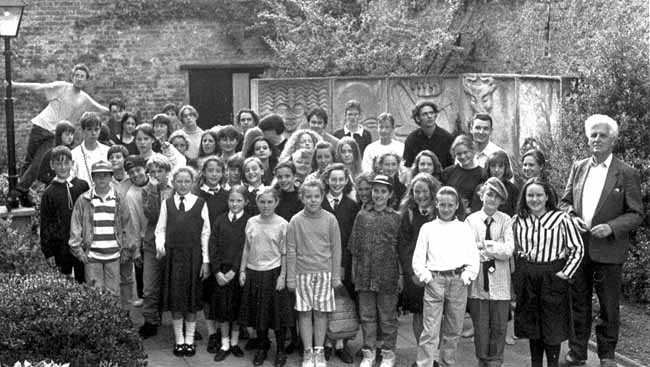 Ted with the cast and crew of The Stick Doll a play he wrote and directed for WYD in 1995. The play was set in Waterford and explored the famine years in this region.
I was very sad to hear of Ted's death. He was a big man in every sense of the word and a great example of a visionary. I remember at the 1984 CAFE conference he brought humour and warmth to the proceedings while, at the same time, inspiring with his insight and energy.
I know his memory will live on in the many projects and people he encouraged and influenced. Please extend my condolences to his family.
Sandy Fitzgerald (City Arts Centre, Dublin)
Many thanks for your email re the sad death of our good friend Ted. It is the 3rd email carrying the info. Your letter is worthy of being his official eulogy. Well done. I had a chat with Frank Coughlan before the Summer about doing something on the W.D.S. for our 70th anniversary and he was saying that Ted would be the man to know most of it. I had planned to talk to him on my return.
I'm in Sydney and very sad tonight at the news. He has left a fine legacy in drama.
Frieda Ryan (Waterford Dramatic Society)
I have just returned from pre-festival work in England this morning, hence my inability to be with you all to salute and bid farewell to Ted, who was a formative influence on all our lives. He was so many things to so many of us, including being one of Spraoi's first patrons. Ted was a tree from which many branches grew, and at least in memory and respect he will remain a binding force on our work and art.
 
I want to offer you my sympathy, your personal sense of loss must be acute. I can only remind you of what you both achieved together and hope that the realisation will sustain you as you come to terms with the loss of a great colleague and friend.
 
T.V. Honan (Waterford Spraoi)
A wonderful tribute to one of the pioneers of youth drama. Thank you for sending me notification of Ted's passing.
With best regards,
Gaye Tanham (Youth Arts Officer, Arts Council)
I am very sorry to hear that Ted has passed away. Thank you for sending on the news. He really was a lovely, gentle man and I will always remember my first night at WYD, he did the rush and oak tree exercise.
 
My thoughts are with his family and those at WYD who had the pleasure of knowing and working with him.
 
Sheena Hegarty (former member of WYD, now living in Australia)
I would just like to extend my sympathies to the O' Regan family and all Ted's friends and colleagues. I know that he will be sorely missed. Sadly I am unable to attend the funeral but my thoughts and prayers are with all.
Yours Sincerely,
Lyn Cunningham (Youth arts worker, Tipperary)
My thoughts are with you today and with all in Waterford who mourn the loss of such a great, gentle visionary man. As you say, Ted was an inspiration for us all. Long may the huge legacy he left behind thrive and continue.
With sincerest sympathy
Mary O' Brien (St. John's, Newfoundland, formerly of Waterford)
My condolences to you and all in Waterford Youth Drama on your sad loss.
Cabrini Cahill (Theatre Director and former youth theatre worker)
Thank you for letting me know about Ted's death of which I was very sorry to hear. Unfortunately I am unable to travel to Waterford for the funeral.
You writing about Ted described very well the man I knew and I can imagine Ted¹s own comments on it - I know you and many, many other people in Waterford will miss Ted very much, please accept my sympathy at this time of loss.
Best wishes,
Denis Collins (Wexford Arts Centre)
Thank you so much for letting me know the terribly sad news of Ted's passing. I had met him quite a few times at workshops and conferences and his jovial creativity and humanity, and committment to the community arts made a lasting impression.
May his memory never rest in peace. He was a great man. Thank you again for your eloquent tribute.
In sincere sympathy.
James King, Department of Humanities, Magee College
On behalf of the Rainbow Factory School of the Performing Arts in Belfast, we wish to extend our sympathies on the death of Ted to his colleagues at Waterford Youth Drama and to his family.
Please send our good wishes.
Brian Draine, Rainbow Factory Manager
I still can't take in the sad news about Ted's death. He was such a special person and I have many fond memories of him over the years. Had you thought of having some sort of memorial (bursary, art form, play, service, meeting or whatever) for him? If so, do please let me know because I'd really like to be involved.
Sue Richardson
Thanks for letting us know about Ted's passing; it is sad news indeed and a great loss to all. I met Ted once just, Sue Richardson introduced me, but it was easy to tell why people held him in such high regard. Naturally, we will pass on the news.
Arthur Duignan (CREATE, formerly CAFÉ)
TED O'REGAN: AN APPRECIATION, by Jim O'Meara