'NUN MORE DEADLY' WINS AT SLIGO
NEW DANCE FILM: 'BATTERED COD'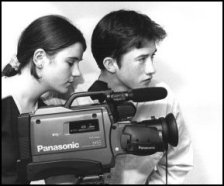 The WYD-Eye Film Unit has been a major success since its inception in 1997. It all started when some of the Members wanted to experiment in film and video. We organised a series of beginners' workshops, and an AIB Better Ireland Award enabled us to buy video equipment.
The very first workshops resulted in three short films--'Thomas', written by Deirdre Burke; 'Clash' written by Daire O'Neill; and 'As Luck Would Have It', by Adam Wallace.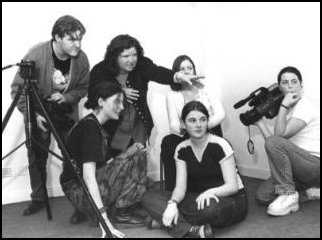 Video Youth Worker Mary Enright directing a group of aspiring young film makers as they work on the production of two video shorts, scripted, directed, acted, produced and edited by young people aged 14-19.
In September 1998 Ben Cloney, the Outreach Education Officer of the Film Institute of Ireland, helped WYD set up a film project using new digital technology. The results were two films, 'Busted' and 'Shush', both devised by the participants.
All this hard work paid off in April 1999 when 'As Luck Would Have It', 'Clash' and 'Busted' were all selected to be screened at the Fresh Film Festival in Limerick, where 'Clash' won a Highly Commended Award. That same year, 'As Luck Would Have It' and 'Shush' were awarded runner-up prizes in the Fiction Category at the Cork International Youth Arts Film and Video Awards.
Katie Bradley MacCarthy joined the Film Unit as Co-ordinator in June 2000 after spending a year as a volunteer in WYD's drama division. She studied cinematography in high school and at university in her native New York. Aelaig Moison, a documentary filmmaker from Brittany, came on board later that year. Aside from broadening the multi-cultural aspect of WYD, Katie and Aelaig have brought with them a wealth of experience and new perspectives.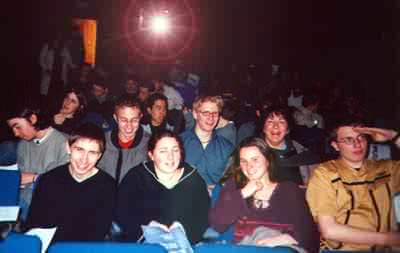 AT FESTIVAL: WYD-Eye Film Unit at the Fresh Film Festival in Limerick. Back (l-r): Brendan O'Brien, Michael Brennan, Denis Buckley, Giles Reid (director of WYD's 'Switch'), Katie MacCarthy (tutor). Front: Dean Carroll, Roísín Byrne, Aelaig Moison (tutor), Paul Power.
The National Council for Vocational Awards (NCVA) accepted the WYD-Eye Film & Video Unit as an accredited training centre for Video Expression in the summer of 2000. This means that participants in our Beginner and Intermediate workshops are eligible to apply for nationally recognised credits for their work.
WYD-Eye also stretched the age profile a bit by starting a 20-somethings workshop group in the spring of 2001, in response to many requests from that age group. One idea behind the change was that it might help to identify and develop potential volunteers and tutors for WYD-Eye. It has proven to be an excellent change. Ben O'Shea, a member of that group, assisted Katie in filming a short documentary that was commissioned by Hullabaloo, Waterford's first International Children's Festival. 'Games We Play' was on exhibition for the month of May 2001 at Garter Lane Arts Centre.
During the summer of 2001 WYD-eye filmed its first digital film, 'Rendevous'. In 2002 WYD-eye made a well-received film called 'Starvin'.