NUN MORE DEADLY (13mins, B&W, Film Noir, 2005 / dir: David O'Sullivan / script: Rodney Lee)
Waterford Youth Drama's WYD-Eye Film Unit in association with Dyehouse Films are pleased to announce that the short film-noir 'NUN MORE DEADLY' has won the award for best fiction at the recent Sligo Short Film Festival.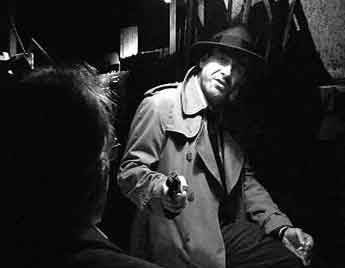 Directed by David O'Sullivan, 'NUN MORE DEADLY', a film noir detective movie set in Waterford City was the result of an international script competition held last year by the Imagine Waterford Arts Festival when they discovered that the famous 'hard-boiled' crime-writer Raymond Chandler had a close connection with the city.


'NUN MORE DEADLY' was made on a tiny budget by members of the WYD-Eye Film Unit with the support and training of industry professionals from Waterford City and county. Filmed around the city's docklands and medieval quarter, 'NUN MORE DEADLY' features many prolific Waterford actors who kindly returned to the city to lend their expertise to the project.


Leonard Hayden features as The Detective alongside Frank Coughlan, Des Manahan & Jenni Ledwell as the sultry but mysterious dame. Jan O' Sullivan appears as a deadly dangerous nun with many other exiting cameo roles from the likes of Micky Power, Liam Rellis, Peter Atkins, Jucky Collins, Jamie Murphy, Ciaran Doyle, Arnaud Mary & Bob Brown.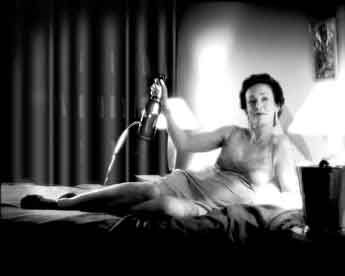 Writer Rodney Lee who wrote the winning screenplay will be in Waterford next month to judge this years Imagine 24-hour film making competition .


Dublin based jazz composer Dylan Rynhart of the Fuzzy Logic Ensemble, composed and scored original music for the short film which director David O'Sullivan describes as 'a sassy and melodic jazz score, tailor made for this movie'.


Post-Production on the short film has recently been completed by Dyehouse Films who have since submitted the film to various film festivals worldwide. As well as winning an award at The Sligo Short Film Festival, Nun More Deadly has been selected for the Boston Irish Film Festival in Harvard in November and The Kerry Film Festival in October.