by Jim O'Meara
I met Ted as a young boy growing up in Rockenham. He and his family moved to one of the new houses built across the road at The Grove. His sons Phillip and John, newly moved from Johnstown, became our friends. They were townies but used to live near my cousins so they were alright in our eyes.
Many's the Saturday or Sunday we used to go for a picnic 'up the fields' with Ted and the gang. The time was taken up with fun and games. Pain was usually limited to splitting of the sides from laughing.
Being from a staunch GAA family we were not exactly encouraged to take an interest in other sporting codes. It was with Ted that we finally got to Kilcohan Park to watch the Blues. That was in the heydays of league championship after championship. Although we could see the football ground from the Knock above Ferrybank, so many times we had to drag ourselves home from games, having walked there in the first place, right across the city, across the bridge and a the last big push up the hill to home. We didn't care, they were our heroes, our idols. And what's more, Ted had played with the Blues at one time!!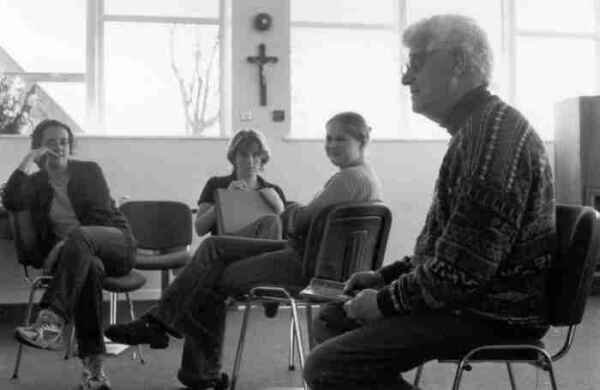 Ted in a workshop with staff of St. Brigids Family and Community Centre
In the early seventies, he roped us in to deliver information and registration forms for Creative Drama classes that he was going to hold at the local parish hall. I couldn't pronounce the word 'creative', not to mind trying to explain what it meant. Whatever it was it all sounded a bit 'stupid'. Our youthful cynicism was proved so wrong.
And so began the birth of a process that was to contribute to changing the image of Waterford as a backwater ex-port, dull, philistine, full of character but not quite producing its share of visionaries and leaders.
Waterford, now the vibrant centre of commerce and culture, can be grateful to the vision of one man, Ted O'Regan, who inspired us all at various stages of development. Arts-for-All, Red Kettle, Garter Lane, Waterford Youth Drama, Spraoi, individuals such as Liam Murphy, Jim Nolan, Ben Hennessy, Phillip O'Neill, Ollie Breslin and myself, to mention but a humble few among others, have been touched by the magic of this one gentle, most human of beings.
It's as if Ted spun a web, over time, that permeated our very souls.
I am so proud to have known Ted. Mary and the family will miss him dearly. Many of us will miss his presence, his warmth, his humour, his heroics. But, you know, there is a bit of him in us all.
Jim O'Meara,
Kent, England (jimo_meara@hotmail.com)
(Jim is former Artistic Director of WYD)