25/1 Wins Denny Gold Medal Steeplechase of £24,000

Front-running tactics and the fitting of blinkers worked the oracle on Thursday 24th August as veteran "Merry People" captured the featured Denny Gold Medal Handicap Steeplechase at Ballybeggan Park, Tralee. The 25/1 was given a dashing ride by Shay Barry and will have a light campaign with a view to a third tilt at the Aintree Martell Grand National next year.
Tralee's six-day Festival Meeting got off to a great start on Tuesday 22nd August as the Rose of Tralee Festival was drawing to a close. Apart from the chance to witness some great racing during the six days of the Meeting, race-goers also have the chance to win a car each day!
Ballybeggan Race Course Secretary, Pat Crean said that he was delighted to be able to introduce such an exciting competition for this year's Race Meeting. "We are constantly looking at ways of improving the race-going experience for all our punters, and this new initiative is a sure winner", he said. He thanked their sponsors for their input into the event and, in particular, Michael Hennebery who put so much work into organising the competition.
Thankfully the weather has been kind to the Racing Committee so far this year and on Thursday (Ladies Day) the sun was splitting the stones and glamour was in abundance. "The Tralee Races is an integral part of the Southwest's annual Sporting Calendar", according to Pat Crean, "and it is a sporting event that attracts many horse-racing followers throughout the region. In addition, the Races offer a great day out with family, friends and colleagues". The prizes for Best Dressed Lady, Best Dressed Fun Fashion Entrant and third prize (totalling £1,000) were sponsored by Michael H. at Shaws Department Stores.
The eight races run on Thursday were:
The Billy Naughton/Citroen Maiden Hurdle of £7,000
The Tattersalls (Ireland) Maiden of £7,000
The Kerryman Ltd./Australian Jockey Club Handicap of £7,000
The Denny Havasnack Q.R. Race of £12,000
The Denny Gold Medal Handicap Steeplechase of £24,000
The Tralee Beef and Lamb Co. Handicap of £7,000
The Spectra Photolabs Handicap of £7,000
The Giles & Co. Auctioneers Maiden of £7,000
Tralee Festival Races: Tue. 22nd - Sun. 27th August 2000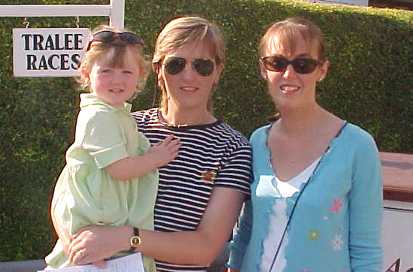 Enjoying Tralee Festival Races on Thursday 24th August were
Laura Lowney and her mother, Noelle with Angela Carroll, Oakpark, Tralee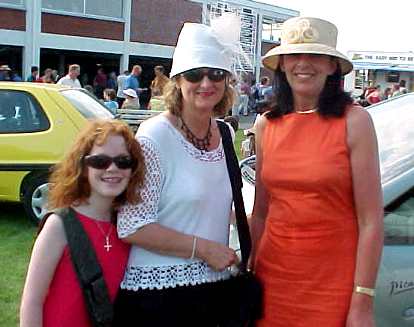 Lauren Hanrahan with her mother Bernadette from Ballylongford, and Mary Murray, Racecourse Lawn, Tralee at Tralee Races on Ladies Day
|Top|
---
Don't forget to bookmark the Tralee Town Website!