The above was screened on the Seascapes page of the RTÉ television Aertel back in 1995. the set was only up to 30 back then, a fair way to go until I completed the series. My thanks to Tom MacSweeney for putting it up on the tv screens. At the time and until recently he was the Maritime Correspondent for RTÉ tv and radio, and would regularly mention me on his radio programme. He launched both my books, 'An Eagle's View of Irish Lighthouses' at The Maritime Museum in Dún Laoghaire November 1999 and 'Ireland's Lighthouses - A Photo Essay by John Eagle' at the Kinsale Bookshop in July 2010.
Many thanks Tom for your kindness over the years
If you are collecting John Eagle postcards, maybe missing one or seeking a particular card, then this is the web page for you. A directory page that lists the places that might be of interest you on the overall site. The backs of the postcards change in small details, for instance since the set was completed it now says '96 postcards in a complete set' in the lower right. As I run out of postcards and have to re-stock them old ones like #38 will now have the new details in the lower right. Other small changes have occured, like the email address and Visa/Mastercard being replaced with PayPal. My hand was forced because Irish banks started charging a fortune for anyone wishing to be a merchant. It went from 22 euros a month to 60 euros a month with a charge per transaction on top of that. I quit Visa on the spot for that very reason.
Individual postcards are a 40c each plus shipping click here
Endangered list
On the list are #60 and 38 with their original 'Light up Your World' details on the backs. They are both being replaced with the current text that has been on the backs of all my lighthouse postcards for the past couple of years. 17, 70, 71 and 90 sold out
The Irish Lighthouse Series of postcards was started in 1994 with the release of numbers 1 to 12. I did two postcards to begin with, Roancarrig #1 and Fastnet # 2. 2000 of each. They came out in February 1994, then a few weeks later I produced 3 to 11, and in July #12. These first 12 postcards were 400 gsm in weight and were printed in Cumbria by Abacus. In 1995 numbers 13 to 25 were printed in Dublin by Betaprint, also some of the biog selling postcards between 1 and 12. These cards have a matt finish to them. Towards the end of 1995 the postcards were printed by Graham and Sons in Omagh, Co. Tyrone and they are printed by them to this day. Along the way other printers have been used, for instance 25C was made in Letterkenny and a version of 3A was printed by Walsh in Castleisland.
Orinally the idea was to make one postcard of each lighthouse but that proved difficult when I had more than one good photograph a certain lighthouse. The sensible thing would have been to put a letter after the number, which I eventually did. Alas, before I thought of this idea I was just putting in a new number, like 2 and 3 for Fastnet, 9 and 19 for Skellig Michael. I have thought of renumbering the set but that would complicate things far too much so please forgive my numbering and enjoy collecting the cards.
Collectors of my postcards will be pleased to know that if you bought off me from the very start a complete collection of the original 12 with the blue fish logo on the back is now rare. There are not many of these left. Even I struggled to find a complete set of these original postcards. I printed 3000 of each of numbers 3 to 11 in 1994 and 2000 of 1, 2 and 12. In 1995 I printed 5000 of numbers: 2 (looking down on the Fastnet helipad) 3, 4, 6B, 8, 10, 12, 13, 14, 15 (with wrong county on back) 16, 17, 18, 19, 20, 21, 22, 23, 24 and 25. After that the usual print run was 1000 except for the Fastnet and the Mizen, and sometimes the Hook. I dumped several thousand of the Hook with the wrong county on the back, my fault, I made the mistake I put Waterford instead of Wexford and found myself with 5000 postcards I could not sell. I put many round the base of my fruit trees to keep weeds down.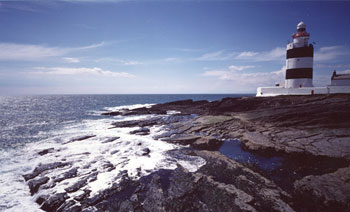 Hook Head 15B is running low. I have decided to change it with a shot I took in 2011 with much more wave action
For the most part I do not tamper with my pictures, but when I took the shot of Dingle a couple of years back I felt there was one too many houses in the background. I removed one in Photoshop, and then I thought 'what the heck' and removed all of them. I call it artistic licence. The boat was around at the time, I just 'brought' it back into play
You can see the postcards by clicking here
February 1994
1 and 2
March 1994
3 to 11
July 1994
12
March 1995
13 to 25
Between 1995 and end of '98 numbers 26 to 50 were released, specific dates uncertain
February 1st '99
nos: 26A, 28A, 61, 61A, 62, 63
February 24th '99
no: 31A
March 20th '99
nos 17A, 19A, 25A
April 20th '99
no: 32A
May 20th '99
no: 57B
June 2nd '99
nos: 53A, 64, 65, 66
July 8th '99
nos: 35A, 50A
July 26th '99
nos: 24B, 67
October 15th 99
nos: 68, 39A, also reworked 8 and 12
October 27th 99
no: 69
December 2nd 99
nos: 3B, 29A, 70
February 4th 00
49A (without front text)
58A
March 8th 00
25B ,71, 72
March 18th 00
42A ,73

July 24th 00
5B

August 10th 00
74, 75, 76, 77

September 4th 00
78
October 16th
27B & 51
February 22 01
43A, 44A, 25C
March 26th 01
40A
April 10th 01
2D
June 19th 01
15B
July 2nd 01
79
July 23rd 01
80

Feb 27th 02
70A
March 14th 02
5C
May 29th 02
Ardnakinna and the Piper Rocks
June 19th 02
54A and 81
November 11th 02
33B and re-release of 58
March 2003
25C Brownes version
June 19th 2003
2E
July 11th 2003
60A, 82, 83, 84, 85, 86
May 26th 2004
87
August 13th 2004
88, 89, 90, 91, 92, 93, 94
June 2005
58B
September 2005
1A
March 2007
95
June 2007
12A
July 2007
96
June 2009
2F and 3C
December 2009
86A
June 2010
4A, 14A, 17B, 18A, 19A, 20A and 21A
August 2010
39B, Reprinted 60, 27A, 68, 78,
September 2010
27A (because the August printing shaved off half the tower)