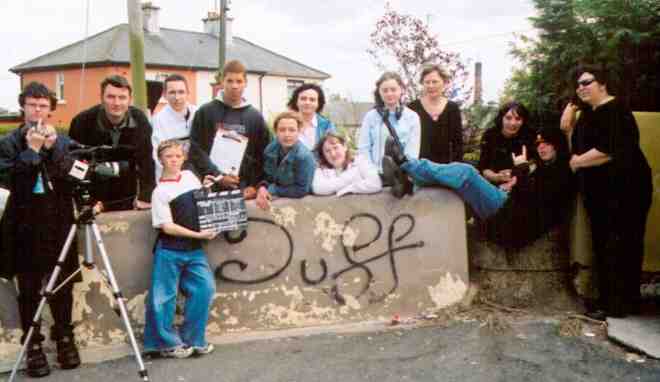 The Buzz Project was an opportunity for teenagers who previously never had the opportunity to explore different arts disciplines to do so in their youth project or school. It was funded through the Young Peoples Facilities and Services Fund. Support and coordination were provided by Natasha Griffin. The tutors included Sile Penkert and Padraic Whyte (drama), Libby Seward (dance) and Katie MacCarthy (video).
Natasha and Padraic were both new to WYD. Natasha came to WYD through her involvement in community projects. Her role was to support various youth projects and to support the volunteers in WYD. Padraic was working with WIT as a drama tutor. His background was in youth theatre.
The photo shows a BUZZ summer film project, June 2002. Young people from WYTEC, Manor St. John Youth Project, Mount Sion and Presentation Secondary School worked with BUZZ workers James Rockett (production manager), Sile, Natasha, Libby and Katie.
WYD wishes to thank WIT (Waterford Institute of Technology) for its assistance with this project.