Devised by the cast
Directed by Sara Thornton
WYD worked with a cast of 40 teenagers to produce a new play inspifed by Marlowe's Dr Faustus and by the Faust legends.
This production was the culmination of our third Summer Project and was directed by Sarah Thornton.
This was a hugely successful adaptation which kept the structure of the original story. This version was about an 18-year-old girl who sells her soul to the devil. This device enabled the young cast to devise and debate as to what she would want to achieve as a parallel to the original. The production featured great imagery and was also a first in that we changed the shape of Garter Lane by removing the middle bank of seats, thus having a traverse theatre.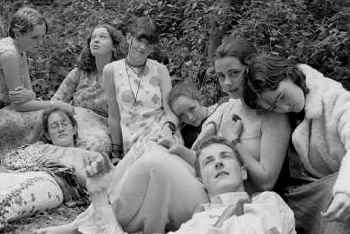 The Summer Project is produced in association with Waterford Corporation and Garter Lane Arts Centre and has the central aim of giving young people the opportunity of working with professional theatre directors. Our two previous directors were Jimmy Fay (Bedrock) and Pat Kiernan (Corcadorca).