Wild Geese Heritage Museum and Library Home Page
Portumna, Co. Galway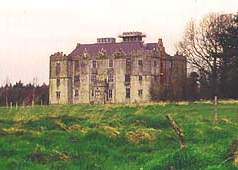 The concept of a Wild Geese Heritage Museum and Library at Portumna Castle evolved during 1995. A submission in favour of a Wild Geese Heritage Museum and Library at Portumna Castle was forwarded to the Department of Arts, Heritage, Gaeltacht and the Islands and it has been favourably received.
The next volume of the research will concentrate on contacting researchers and historians all over the world, who have already done a great deal of work on the Wild Geese and have a deep knowledge of their place in history. Efforts will be made to put the research onto a firmer financial foundation, and to establish a formal Wild Geese Research Centre at Portumna.
Wild Geese
Irish soldiers of fortune went into Europe in organized units as far back as the thirteenth century, but the first Flight of the Wild Geese took place in 1607, when Hugh O'Neill and Rory O'Donnell, the respective Earls of Tyrone and Tyrconnell set sail from Loch Swilly on Co. Donegal. They never returned to their native land.
The Wild Geese certainly made their presence felt in the world. They fought in every major conflict from the days of Louis XIV to the last world war. They founded four navies and were particularly active in the foundation of the United States, Chile, Peru, and Mexico. They were to a great extent responsible for opening up the western states of America, and were particularly active in the Boer War in South Africa. They fought on both sides in the American Civil War. They fought for the French Revolution. Four were among Washington's principal aides, just as four others were signatories of the American Declaration of Independence. Over sixty fell at the Batttle of the Little Big Horn, whilst Chief Sitting Bull wore the medal of one of the Wild Geese around his neck until he died.
Red Hugh O'Donnell and his brother Rory both made their way to Spain during the early years of the seventeenth century, and their descendants have been prominent in Spanish society ever since. Leopoldo O'Donnell became Prime Minister of Spain in the nineteenth century. Irish family names are prominent in Spain, including O'Reilly, O'Callaghan, O'Shea, and McMahon. The principal street in Madrid is called Calle O'Donnell.
Sarsfield
The one Irish name, above all others, associated with the Wild Geese is Patrick Sarsfield who led the second flight after the Treaty of Limerick. He was the vital Irish figure in the final scene of that tragedy. The defeat of James II at the Battle of the Boyne by William of Orange was the beginning of the end of the Jacobite War. After the Siege of Limerick and subsequently the treaty, Sarsfield and eleven thousand of his soldiers marched to Cork and embarked for France. They assembled at Brest, and Sarsfield at the head of his troops marched them into Normandy. There James II formed them into four regiments. Later those regiments became known as the famous "Irish Brigade" of France.
Historians disagree about the exact year of the birth of Patrick Sarsfield. They all agree that he was probably born in Lucan, Co. Dublin about 1650. In a continental context Sarsfield's military achievements were not great, but they threatened to change the history of Ireland at a time when the balance of power in Europe could well have been altered by events in Ireland. By the time of his death he was the best known and most loved of all Irishmen. The English held him in awe. To the Irish he was Father of the Nation . Even today in Ireland there are many GAA clubs, societies etc. named after him.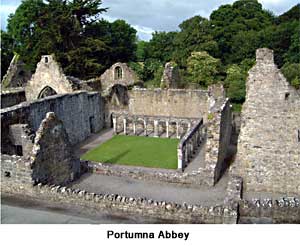 All historians agree that he married Honora De Burgo at Portumna Abbey in 1689. This was the period before the defeats at the Boyne and Aughrim, and before the final stages of the Siege and Treaty of Limerick. Local historians claim that he came up on horseback from Limerick for the wedding.
Louis XIV resumed his quarrel with William in Flanders in 1692, with Patrick Sarsfield leading the Irish Regiments. He so distinguished himself at one of these battles that he was rewarded with the title: Marshal of France. On the 19th of July of the following year, the forces of Louis and William again met in the Netherlands, near the village of Neerwinden, by the little stream called Landen.
Duke of Berwick
The Duke of Berwick featured prominently in this Battle, which the French eventually won. It was at this battle that Sarsfield lost his life. Leading a charge of the French cavalry, he was struck over the heart by a ball. Carried on a stretcher to Huy, his wound proved fatal and he died three days later on the 22nd of July 1693.
His wife Honora and his little son James Francis Edward, were with him at Huy when he died. In reduced circumstances and quite unprotected, Honora and son continued to live on near the grave of Patrick Sarsfield for two years after his death, as though clinging to their sole means of support. Patrick Sarsfield was buried with full military honours in the grounds of St Martins Church in Huy. Huy celebrated the 300th anniversary of his death in 1993, and many people from Ireland attended the ceremonies. A plaque marks approximately the burial place. Huy is a reasonably sized town about sixty miles south of Brussels.
The Duke of Berwick secured a commission for James Francis Edward Sarsfield in the Spanish army, where the youth so distinguished himself that the King of Spain decorated him with the Collar of the Golden Fleece. However, his career drifted downwards from this point and he died at St. Omer's in Flanders in 1715, aged about 25 years.
Honora de Burgo
Honora de Burgo was the daughter of William, 7th Earl of Clanricarde and Helen McCarthy. All historians agree, and there is extant documentation to hand, showing that Honora was born at Portumna in 1675, and that she lived there for the following sixteen years. She was a very charming woman, beautiful, striking, handsome as a picture, and much admired for her sense of fashion. She married Patrick Sarsfield at the age of sixteen, but subsequently had to leave Portumna, as a result of the Treaty of Limerick. Sarsfield and his Irish officers wintered at the castle of Saint Germain, just outside Paris. Honora entered Parisian society with great enthusiasm. The fashionable balls and masquerades of the most sophisticated capital in Europe were a world away from the best entertainment that could be provided in Portumna. In April 1693 she presented Sarsfield with a son. Honora was only nineteen years old when her husband died leaving her with a three month old son.
Two years later the Duke of Berwick offered his hand in marriage and she accepted. They were married in the chapel of St. Germain in March 1695. It was a very happy marriage, but it was short lived as she died in June 1698 at the age of twenty four. She had moved to Pezenas, near Montpellier trying to get a cure for her consumption. The Duke was very affected by her death. He had her heart preserved in a silver box, which he kept at Pezenas. He missed her as she was a very upright, fair, and indeed a strong individual character. He spent several hours a day praying at her tomb, which was in the church of the Fathers of the Oratory. They had one son, James Francis Fitz-James, who later carved out an excellent military career for himself.
The Duke of Berwick was a very kind and generous man, and once gave away all the money he was carrying to a family that was destitute and starving. He was born in 1670 at Moulins in Bourbonnais in France, and was brought up a Catholic. His mother was Arabella Churchill, sister to the Duke of Marlborough, and his father was James II King of England. There are extant drawings to hand of Portumna Castle which clearly show a room on the first floor specifically called "Duke of Berwick's room". William, the Earl of Clanrickarde had made a settlement on his daughter's marriage, and after Honora's death the Duke of Berwick and his son, James Francis Fitz-James started proceedings to claim their rightful inheritance from the Earl of Clanricarde's vast estates in Portumna and East Galway. The Duke stayed many times at Portumna (in his own room), as did Patrick Sarsfield.
After the death of Honora he married Anne Bulkeley, daughter of Henry Bulkeley and Sophia Stewart, who was related to Louis XIV. He was a distinguished soldier, and he had a brilliant military career. He obtained the title Duke of Berwick in 1687, and he fought against the Turks in Hungary, and against William of Orange in Ireland and in Flanders. In 1693 he was made French Lieutenant General, and in 1706 he was made Marshal of France . In 1705 he took command of the French Army in Spain, and he recaptured Madrid for King Philip. In 1707 he won the decisive battle of Almanza in the Spanish Campaign, which confirmed Philip on his throne and gave Berwick a European reputation. In 1710 he was created Duc de Fitzjames by Louis XIV, and in 1714 the French Army was sent with him into Catalonia to end the War with Spain. The storming of Barcelona was a triumph for him and the Irish regiments. He was Governor of Strasbourg from 1730, and he commanded an army in the Rhine during the War of the Polish Succession. He was besieging Phillipsburg when he was killed by a cannon shot on June 12, 1734.
The Duke of Berwick's and Honora's son was born in 1696. He inherited his father's title of Duke of Berwick, and Philip V of Spain created him Duke of Liria, Xerica, Grandee of Spain of the first class. In 1716 he married Dona Caterina of Portugal, sister and sole heiress of the Duke of Veraquas. He died in Naples in June 1738, and his wife died in 1739. They had two sons and one daughter, all of whom married very well in Spain.
Wild Geese Research
The project on the Wild Geese is massive. Researchers have been established in Brussels, Dublin, Frankfurt/Main, Huy, Madrid, London, Margaux, New York, New Jersey, Paris, Portumna, Virginia, and Washington, D.C. All the researchers agree that this project is overdue. Ireland has not done much to remember its people who have been dispersed throughout the world, and who have made such a contribution to its development.
The proposed Wild Geese Heritage Museum and Library will provide a spiritual home and focal point for all the persons of Irish origin who are scattered throughout the world and who yearn for some contact with their roots. All of us and many more agree that Portumna Castle is the natural location for this Wild Geese Centre, because of its connections as related here. Portumna Castle is at present being restored, and so far there is no theme for it. William A. Miailhe de Burgh is giving a collection of 300 rare books for a start as well as some valuable portraits and paintings. The British Museum and Library in London, The National Museum and Library in Dublin, Musee Liria in Madrid, the Castle of St. Germain in Paris, and the Smithsonian Museums in Washington, D.C provide valuable sources of information.
Additional researchers or persons with information are constantly required, especially in far away countries. Anybody who is interested should send an e-mail to Sean Ryan.
Visitors to this site since 16 January, 2001.