Wild Geese Heritage Museum and Library Home Page
Portumna, Co. Galway
Honora de Burgo (1675-1698)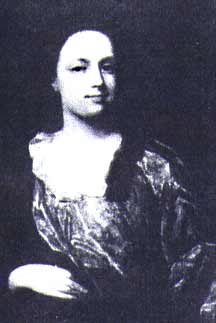 Honora De Burgo was born about 1675 at Portumna Castle, Co. Galway. She was the youngest daughter of William Burke, the seventh and late Earl of Clanricarde. She was half-sister to the living Earl and his brother Lord Bophin, and she was Lord Galway's sister, Lord Mountcashel's niece and Lord Clancarty's cousin. Her mother was Helen MacCarthy, daughter of Donough MacCarthy, first Earl of Clancarty, and widow of Sir John Fitzgerald, of Dromana, Co Waterford. Honora had two brothers and one sister; viz, Ulick, created Baron Tyaquin and Viscount Galway, who married Honora Frances Lane, daughter of George, 1st Viscount Lanesborough, who was killed at Aughrim 12th July 1691, without issue. William, died without issue. Margaret, married (1) Byran, Viscount Magennis of Iveagh and (2) Col. Butler of Kilcash.

She spent her childhood in Portumna, Co. Galway, but there are no records available at the moment describing this period of her life.
She married Patrick Sarsfield at Portumna Abbey on the 9th January 1689, when she was only fifteen years old, nearly twenty years younger than her husband. There is no record of their courtship, although it is most likely that he met her for the first time when he visited Portumna earlier in the year, after he had reformed Oxburgh's regiment in Birr.
After their marriage they went to live at Sarsfields house at Lucan, Co. Dublin. Honora lived there until after the battle of the Boyne, with occasional visits to Portumna, in company with her husband, who often had to attend in County Galway to military affairs. Honora was a noted gardener and her love of flowers was great. She spent as many times as she could manage in her busy life, in the beautiful gardens at Lucan. Honora's friend at Lucan was Moira Delmarque, who later married Phelim O'Hara from Tuam, Co. Galway, and who at the age of seventy-two led the right wing of the Irish Brigade under Dillon at the Battle of Fontenoy in 1745.
After the defeat at the Battle of the Boyne (1-7-1690), the Irish were retreating westwards and it became too dangerous for Honora to stay at Lucan, so she followed her husband to Athlone, Aughrim and Limerick. It was at this period that she again stayed at Portumna Castle with her husband. The Duke of Berwick also stayed at Portumna Castle during this time.
On the 22nd of December 1691, Sarsfield sailed out of Cork with the last of the Irish army. For the following few months he organised the Irish troops at Brest, and with an infusion of French troops , a new army was organised under James II, for the sole purpose of invading England, and reclaiming his crown. At the battle of La Hogue on 19-5-1692, the French fleet of Louis XIV was heavily defeated by the Anglo-Dutch fleet of William III. It proved to be the ruination of all their plans, and it was the end of the Irish army of James II. The French were determined to use the Irish for their own armies, with the result that the Irish were transferred completely into the French army. The war between Louis XIV and William III continued in Flanders, and in the Summer of 1692, the Irish were marched across France to join the French armies on the eastern borders, and under Marshal Luxembourg they had victories in Namur and Steenkirke. Their wives and families travelled with them, and conditions were fairly hopeless.
Once the campaign in Flanders was concluded (Autumn 1692), Sarsfield retired, as did every other Irish officer not obliged to stay with his troops, to King James's court in exile at St. Germain-en-Laye, just outside Paris. His wife, who was now almost nineteen years old, entered Parisian society with great enthusiasm. The fashionable balls and the masquerades of the most sophisticated capital in Europe were a world away from the best entertainment that could be provided in Portumna, especially to a girl who enjoyed dancing as much as she did. She loved Paris, and in turn was herself much admired and was said to have introduced to the French court "les contredanses anglais". Before long she was counted as being among the most fashionable and beautiful women to be seen at either King James's or the French court. Saint Simon wrote of her: "Elle etait a la premiere fleur de son age; belle, touchante, faite a peindre; un nymphe." In April 1693, she presented Sarsfield with a son. They named him after the Prince of Wales, James Francis Edward.

Preparations for the 1693 campaign began in early spring. Sarsfield was appointed Major-General under Marshal Luxembourg, and together with the army of Major Boufflers, it was planned to take all the major towns in Flanders still in Allied hands. William III assembled all his forces, and the two armies faced each other outside the village of Landen, and prepared to fight the greatest battle of the war. The battle of Landen began at half past four in the morning of the 29th July 1693. The centre division of the French army was commanded by Berwick, the right by Lieutenant-General Rubantel, with Sarsfield as Major-General, and the left wing was commanded by Lieut. General Montchevreuil. In the ensuing battle, Berwick was taken prisoner, Rubental was severely wounded, and Montchevreuil was killed, and thus Sarsfield was now in command. As he was leading the attack, he was struck by a bullet in the breast. He was taken to the town of Huy, about twenty miles away, where he died three days later. He is buried in St. Martins Church in this city, where a plaque is erected marking the approximate spot of his grave.

Honora and their little son, James Francis Edward, were with him at Huy when he died. Abandoned and in absolute poverty, they lived on near his grave, as though clinging to their sole means of support. Two years later, the young Duke of Berwick passed through this town and met them. He was touched with compassion at their sad plight. She was still very young and beautiful. The Duke chivalrously offered his hand in marriage and his protection to the boy. Honora accepted, but it is assumed she was already in decline brought on by her misfortunes, for she survived the second marriage only four years. Historians disagree on the date and place of this marriage:


"They were married on the 23rd of March 1695 at St Peter's Montmartre, and since it was Lent a dispensation was issued by the Archbishop of Paris. But why Montmartre when both of the young people lived at St. Germain-en-Laye? It was said that King James would have wished a more advantageous marriage for his son of whom he was very fond. It did not take long, however, for the charming Honora to get him to unbend. The following year it was in the chapel of the old Castle of St. Germain-en-Laye, in the presence of James II and Queen Mary (Mary of Modena, mother of the Old Pretender), there took place the christening of the new-born son of the young Duchess of Berwick. But sad to say her happiness was not to last long". (Micheline Kerney-Walshe, in an article entitled Femmes Irlandaise en Exile - quoting from Saint Simon.)

"On March 26th 1695, he (Duke of Berwick) married in the Royal Chapel at St. Germain-en-Laye, the widow of Patrick Sarsfield, who had been born Lady Honora de Burgh, second daughter of the seventh Earl of Clanricarde. Bridegroom and groom were roughly the same age, for Berwick was twenty-five and the Countess of Lucan was twenty-one. The new Duchess was already the mother of one child, namely the second Earl of Lucan, who had been born two years previously, three months before his fathers death. ..... The young bride soon won her way into the good graces of Louis XIV, who gave her and her husband a set of apartments in Marly". (Sir Charles Petrie, in his book entitled The Marshall Duke of Berwick, and referring to the Memoires of the Duke of Berwick.)
Their son, James Francis Fitzjames, Duke of Liria and Duke of Berwick after his fathers death has, in his Memoires, left this memento of his mother:


"My mother was as beautiful as the dawn and was, I have been told, very virtuous. She was lively and loved dancing, took part in all proper merrymaking, and it was she who introduced English square dancing into the French Court".
"My mother became pregnant, but after having suffered a miscarriage she caught a heavy cold which settled on her chest and she developed consumption. The doctors thought the air of Languedoc would be more suitable than the air of St. Germain which is very sharp. This is why my father took her to Pezenas where she just pined away and died in February 1698, at the age of twenty-one and a half years. My father, not yet twenty-eight years old had loved her to distraction, and was inconsolable at her death. He returned to Court having had my mother's corpse brought to Pontoise where he had her buried with great cermony in an English convent."
She bade farewell to her husband and infant son and died peacefully at Pezenas on the 16th January 1698. The Duke of Berwick had her heart preserved in a box and placed in an oratory, where he prayed to her each day. He wished to have her heart buried in the Church at Pezenas, and this was carried out on the 18th of January after Solemn High Mass. Her body was then embalmed and taken to Pontoise to be laid to rest there. The following is an account of her burial, which is taken from the Pontoise Necrology, which is written in French, and which has been translated impeccably by a fellow researcher and historian:

"In the year of Our Lord 1698 on the 25th of February the high-born, very important and very virtuous Princess Honora de Burgh, Duchess of Berwick who had died on the 16th January of that same year at Pezenas, fortified by rites of the Holy Catholic Church - Penitence, The Eucharist and Extreme Unction - was laid to rest in the side-chapel of the Church of the Abbey of the English Benedictines. It was here, when dying at the age of 22 years and 10 months, she had chosen to be buried, and to this Abbey her remains were transferred on the 24th of February accompanied by: Father Francais des Marets, Priest, B.C.L., Vicar-General and Official of Pontoise and of Vexin-le-Francois and Superior of the aforementioned Abbey. Present also were His Grace, Dominick MacGuire, Archbishop of Armagh and Primate of Ireland; the exalted, very powerful and most excellent Prince and Duke of Albemarle, Knight of the Order of the Garter, Commondore of his Most Christian Majesty's Naval Forces; Lord Perth, Earl and Peer of Scotland, Knight of the Order of the Garter and tutor to His Royal Highness, the Prince of Wales; Lord Melfort, Earl and Peer of Scotland, Knight of the Order of the Garter; Lord Galmoy, Earl and Peer of Ireland; Lord Waldegrave, Baron and Peer of England; Lord Mountleinster, Baron and Peer of Ireland; Lord Forth, son of Lord Melfort; Lord Brittas and Peer of Ireland; Richard Hamilton, Grand master of the King's wardrobe; Porter, the King's Vice-Chamberlain, and a great number of Lords and Ladies of the English Court. In proof of the truth and corrrectness of the above there are appended the signatures of: Father des Marets, of Father Lawrence Briers, Father Confessor of the Abbey and of Father Louis Du Val, Cochelier of the Sorbonne, and Parish Priest of Notre Dame in this town of Pontoise."

The chapel was deconsecrated after the closing down of the Abbey in 1786. In it were several remarkable sepulchres among which was the white marble tomb of Princess Honora, daughter of William Burke and wife of James Fitzjames, Duke of Berwick.

The hazards of war and the turbulence of the French Revolution have obliterated many of the Churches, Abbeys and graves that we are searching for. We welcome all available information.



Bibliography

Patrick Sarsfield and the Williamite War, Piers Wauchope.
The Wild Geese, Maurice N. Hennessy.
Patrick Sarsfield, Alice Curtayne.
Extracts: Researches into History of the Town of Pontoise, Abbe Trou.
The Herald and Genealogist, John Gough Nichols F. S. A.
History of the Town of Pezenas, Pierre Paul Poncet.
The English Ladies of Pontoise, and the Pontoise Necrology.
Femmes Irlandaises en Exile, Micheline Kerney-Walshe.
Lodges Peerage of Ireland, Vol. 3, 1789.
Burkes Dormant and Extinct Peerage,1883.
Memoires of James Fitzjames, Duke of Berwick, 1779.
The Marshal Duke of Berwick, Sir Charles Petrie, 1953.
The Life of Patrick Sarsfield, J. H.Todhunter, 1895.
International Genealogical Index, Mormons, Salt Lake City, Utah.


Copyright © 1999 Sean Ryan
Return to Homepage