Wild Geese Heritage Museum and Library Home Page
Portumna, Co. Galway
Patrick Sarsfield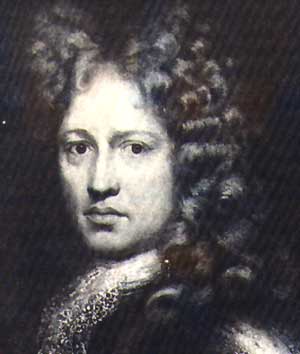 Sarsfield led the second flight of the Wild Geese. After the Treaty of Limerick, He marched to Cork with 11,000 soldiers and embarked for France. He died in the Battle of Landen in 1693.

Patrick Sarsfield, the first Earl of Lucan was born at Lucan, Co Dublin, about 1650, the second son of Patrick Sarsfield of Lucan and Anne O 'Moore, daughter of Rory O ' Moore. Patrick was educated at a French Military College. He was a good student, always ready to take on the more daring and dashing pursuits of battle as opposed to the more serious and tedious aspects of planning and implementing campaigns of war.

Born into a wealthy family, he succeeded his elder brother William in the family estates in 1675 , which had an income of £2000 per annum. William married Mary, daughter of Charles II by Lucy Walters, and Patrick married Honora De Burgo at Portumna Castle, Portumna , Co Galway on 9-1-1689. She was the daughter of the Earl of Clanricarde, and her mother was Lady Ellen, daughter of Donough MacCarthy , First Earl of Clancarthy.

From this marriage was born one son James, who after Sarsfield's death inherited his fathers title, and who was Knight of the Golden Fleece and Captain of the bodyguard to Philip V of Spain. James died in St.Omer, France, without issue on 12th May 1719. They also had one daughter by the marriage. She married Theodre de Neuhof, the phanthom king of Corsica, and had a son by him named Frederick, the author of Description of Corsica.

Sarsfield went to England and received a commission as a Captain in Colonel Dongan's regiment of foot soldiers. He took up his appointment on the 9th of February 1678.He was Captain in Hamilton's Dragoons from the 20th June 1685, and Lieutenant-Colonel of Dover's Horse on the 18th October following, and was made Colonel on the 22 May 1686. In the year 1688 he was in Ireland, and raised a troop of horse for King James. He was made Colonel with the rank of Brigadier-General. He helped Tyreconnel to remodel the Irish Army.

Away from his military career, Patrick Sarsfield was made MP for County Dublin on the 7th May 1689. He was a Commissioner for raising taxes in County Dublin on the 10th April 1690, but it was to his military career that he greatly distinguished himself, and after William of Orange landed in Ireland, he found himself back at the head of a strong force guarding Athlone against an unexpected attack from the enemy.

Throughout the wars in Ireland he showed great courage. Although he was noted as a strict disciplinarian, he was loved by the men that served under him. He was quick to uphold the good name of Ireland and his beloved friends. For this he fought many a duel and at one such contest he was badly wounded. Because of his indomitable spirit, and readiness to jump into an affray to protect his friends, King James and lesser commanders thought that Sarsfield had no head for overall command of the army, but despite this Sarsfield was created by King James in January 1690, Baron Roseberry, Viscount of Tully, and Earl of Lucan. He was appointed Colonel of the Lifeguards. He went on to be Commander-in-Chief of the forces in Ireland, January to May and again in July to October 1691. In the wars in Ireland at the time, Patrick Sarsfield was unlucky in not being involved in the most decisive parts of the battles. Whether this was just bad luck on Sarsfield, or whether politics and jealousy were manifest, one will probably never know. At the Battle of Aughrim he was held in reserve with the greatest and best of the cavalry with him, out of sight of St Ruth making his disastrous cavalry charge, when St Ruth's head was blown off by the enemy's cannon fire. By the time Sarsfield was told of St Ruth's death, it was too late and the battle was lost. Great credit must go to Patrick Sarsfield, as one of the few that led his men in retreat to Limerick, in an ordered fashion, this action alone saved a lot of men's lives. A far cry from the terrible slaughter that occurred to other regiments after their defeat at Aughrim.

He brokered the favourable terms of the capitulation of Limerick on the 3rd October 1691. He then went to France on the 22nd of December of that year with twelve ships and about 2600 persons. On arrival in France he was appointed Captain of the second troop of Irish Life Guards in January 1692.

He was killed at the head of a French division at the Battle of Landen in the attack on the village of Neerwinden in Flanders on the 29th July 1693. He died of his wounds three days later at Huy in Belgium, where he is buried in the grounds of St Martin's Church. A plaque on the wall of this Church marks the approximate location of his grave. He was quoted as saying " If this was only for Ireland ." His death was the inspiration for this 17th century epitaph by an unknown author:

&nbsp Oh Patrick Sarsfield, Irelands Wonder,
&nbsp Who fought in the fields like any thunder,
&nbsp One of King James's chief commanders,
&nbsp Now lies the food of crows in Flanders .
&nbsp Och hone, Och hone.
Bibliography

The Jacobite Peerage, 1904, Ruvigny.
The Irish Brigade 1698-1745, Francis Henry Skrine, 1921.
The life of Patrick Sarsfield, John Todhunter, 1895.
King James Irish Army List, D'alton.
Memories du Marchal Berwick.
Patrick Sarsfield and the Williamite War, Piers Wauchope, 1992.
The Wild Geese, Maurice N. Hennessy.
Copyright © 1999 Sean Ryan
Return to Homepage