Kerry's Biggest Shopping Centre Opens Its Doors!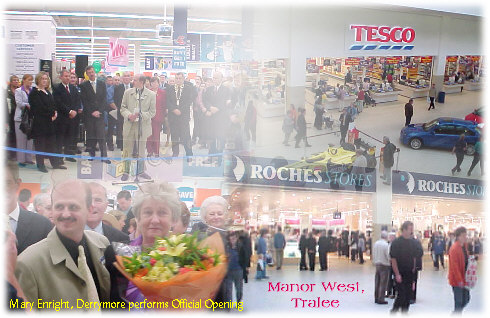 The Manor West Retail Park was opened to the general public for the first time on Tuesday 23rd October, when the two main anchor tenants (Tesco and Roches Stores) commenced trading just after 10 o'clock. The development is situated beside McDonald's opposite the County Council offices at Rathass.
As well as Tesco and Roches Stores, Harry Corry (the home furnishing store) and Brian de Staic (silversmith/jeweller) have opened outlets in the new centre. On 1st November Mothercare will open for business and others will follow shortly after, including Bewleys Restaurant, Lifestyle Sports and Woodies DIY.
It is estimated that almost 15,000 people passed through the spacious shopping centre during the nine hours of trading on Tuesday. Declan Stone, representing the letting agents, stated that the new development was "a new shopping centre and retail park of regional rather than local or district proportions. It is only the third of its kind in the country - the other two being the Blanchardstown and Liffey Valley centres, which are both based in Dublin."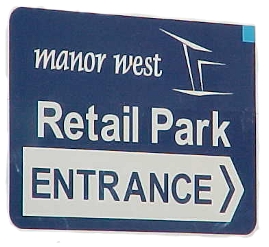 Roches Stores has opened its first outlet in Kerry (which is its twelfth in the country) along with a number of its concession outlets (Principles, Top Shop, Top Man, Dorothy Perkins, Oasis, Esprit and Evans) and is occupying 3,700 sq. metres in the new Retail Park. Store Manager, John Bermingham, who came from the Limerick branch, said that he expects most of the Kerry customers who used to travel to the Limerick store would now be able to get the same range and value on their own doorsteps in Manor West. "We are very excited to be here", he said.
Tesco Store Manager, Donal Claffey, admitted that previous parking limits in the centre of town had prevented the outlet from reaching its full potential, but the new outlet is bigger (approx. 3,000 sq. metres) and, with 1,000 free car-parking spaces available to customers, would be able to meet every demand. The Manor West store is about two-thirds the size of the store in The Square, Tallaght, which is the largest Tesco store in Ireland. Both anchor tenants in the Manor West Complex employ approx. 150 staff each.
It was interesting to note that, despite the huge range of local, national and international personalities to choose from, Tesco decided to draw on exclusively local talent to open their new store. It was Mary Enright from Derrymore who won their "Become a VIP for a day" competition and she fulfilled her main duty by cutting the tape and officially declaring the store open at exactly 10:08am on Tuesday. Many of the large attendance were a little confused when they assumed that it was comedian Brendan O'Carroll who was going to do the honours - however it was in fact store Manager, Donal Claffey, who presided over the ceremony and bears a striking resemblance to the show-biz personality.
..... But what did the punters think? Well, Peg Hanafin from Kevin Barrys said that it was the biggest shop she had ever seen and she wondered how she was ever going to find the time to get around it all! Tom and Joan Mulcahy, who had travelled from Listowel were thrilled that Kerry now has "what the cities have had for years. We'll certainly be coming to Tralee in future rather than going to Limerick or even Dublin", Joan said. Meanwhile former Kerry football team bag-man, Leo Griffin, had walked out from the centre of town early in the morning to be there for the opening. "I'm a bit disappointed", he said, "because I thought there'd be give-aways and things. Instead - nothing." To be honest it's hard not to agree with Leo - the promotion of the opening of such a major development for Tralee was rather luke-warm - on television, for example, it appears to have been non-existent. Tesco's attempt to attract customers with their "Opening Offers (buy one loaf of bread/melon and get one free!)" appears to have been a token gesture at best and a potential PR-disaster at worst.
However, the decision to bring Eddie Jordan's Formula 1 racing car to the event, was certainly a winner. It attracted a huge number of curious spectators all day - it was a pity, though, that it couldn't stay until close of business, disappearing as it did at 4:30pm.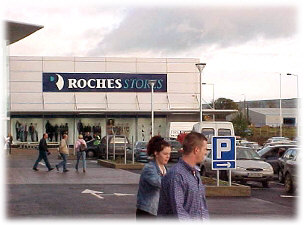 A word of caution to those who have yet to visit the Retail Park: be sure when you park your car that you make a note of its location - it was comical to witness the number of people who were walking around with a puzzled expression on their faces (and a shopping trolley!) searching for their cars in the huge expanse that is the Car Park. The parking areas are marked numerically in sections - make a note of your number: there's nothing worse than looking for your red Fiesta amongst 1,000 other cars!