The Cossey Family of the Waveney Valley
The Cossey family we are tracing starts with William Cossey who was born before 1742 in the Norfolk/Suffolk area. The area covered is Earsham, Syleham, Horham, Kirby Cane, most in the Waveney Valley.Hover over the box for the hyperlink. A family tree icon linking to the Cossey family is at the bottom of the page. UPDATE 24 July 2002. The Tree at the bottom of the page has been updated and starts with Samuel Cossey born about 1707. Hope to update the actual web page soon! VS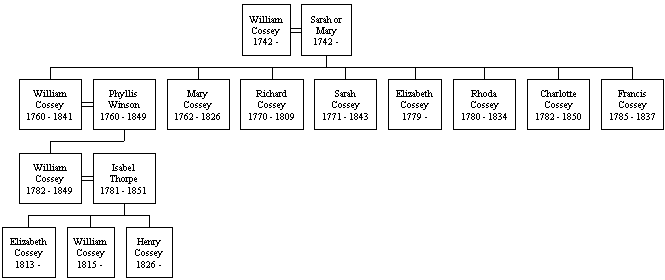 When I first started putting information into my family tree I was very lax at putting in sources so I would appreciate confirmation of any facts which are unsubstantiated.
I would appreciate receiving more information - I know there's lots out there.
Valerie Stevenson (nee Denny) living in Ireland, brought up in Harleston, Norfolk.
e-mail stevenso@indigo.ie
Family Tree Be patient - it takes a while to load.

Information has been received from the following people:
| | |
| --- | --- |
| Name | Nearest Cossey Ancestor |
| Julie Walker (JW) | Francis Cossey born 1785 ???? and others |
| Russell Cassey (RC) | Himself! |
| Pamela Brown (PB) | Ethel Jane Cossey born 1890 |
| Sandra Chapman (SC) | Rhoda Cossey born 1780 |
| Cheryl Radigan (CR) | Rhoda Cossey born 1780 |
| Valerie Stevenson (VS) | Rhoda Cossey born 1780 |
| Peter D Arnold (PA) | Alice Marie Cossey born 1907 |