Reviews & Interviews
Pop: Fail better
Jubilee Allstars have saved the best for last with their final album, says Mick Heaney
They couldn't play their instruments, they were mediocre live, they fought with their record company, and they deliberately avoided writing melodic songs. When Niall McCormack, the frontman with Jubilee Allstars, looks back at his band's career and says that they have never been pragmatic, it is something of an understatement. After all, this is the Dublin band who were critically feted, signed to a big label and enjoyed the imprimatur of the late John Peel, yet whose bestselling disc sold a mere 2,000 copies.
Such underachievement is impressive even by the failure-filled standards of Irish rock, but for fans of the band behind some of the best Irish records of the past decade, it is also disappointing. On the face of it then, the release of the band's third album, The Struggle Continues, seems to signal a change in fortunes. <![endif]>
By some way the best Irish album of the year — it is powered by the kind of unforced melodic spirit and authentic energy for which U2 now vainly strive — the appearance of The Struggle Continues should have been a vindication of what McCormack calls the group's bull-headed ethos.
Instead, more than two years after it was recorded, the album turns out to be their valediction. Twelve years after McCormack and his brother Fergus first formed the band, it seems that Jubilee Allstars are no more.
³I suppose we have split up,² says Niall. ³The plan was to keep going, as the title would suggest. But I think we ran out of steam. We hadn't stopped, we hadn't split up or anything — we just didn't exist. It was ambiguous and the record ended up in limbo. In the end I had Catholic guilt about this record lying there and put it out.²
³I like the nebulous, foggy thing around it: do we exist or not? I'd like to leave it at that, with the album as our best statement,² says Fergus. ³I'm at the stage where carrying amps up the back stairs to venues stopped appealing to me a long time ago.
³Nothing against them, but I would have a real fear of being Sack or Blink: all these bands you read about, where it says they've just been to America and you know for a fact they were playing some Irish bar in the East Village and Morrissey listened to their record once. All this straining to be something. Personally, I think it would be a defeat it if we went back to playing Whelans (in Dublin). I would much rather say: 'There's the album'.²
It is fitting that such a determinedly anti-careerist bunch as Jubilee Allstars should call it a day this way, belatedly releasing the finest record of their career on a minuscule vinyl-only run after their final line-up — singer and guitarist Niall, bassist Fergus, guitarist and harmonica player Brian Rice and drummer-cum-studio engineer Cillian McDonnell — had drifted amicably apart.
The Struggle Continues is certainly a memorable parting shot, its energetic rock'n'roll playing offset by Niall's affecting melodies and longing vocals. The album's rough edges only add to its appeal. <![endif]>
And if there is a poignancy to the Jubilee Allstars ending just as they hit their peak — The Struggle Continues is the kind of inspirational rock album that sits easily alongside the output of groups such as the White Stripes and the Kings of Leon — the sentiment will probably appeal to the McCormacks as well. After all, when the Rathfarnham-born brothers started out they weren't fired by dreams of success.
³Just being in a band was a romantic thing for us,² says Niall. ³I was never in it to get women or drugs. I was in it because I was obsessed with putting out records. Maybe it's just a complete geek nerd thing from my point of view.
³And we had a romance about having the crappiest of everything. We started out not being able to play a note and we had the cheapest guitars and amps. Even when we got the chance to splash out, when we were on Lakota (records), we bought 30-year-old amps or a Hammond organ that didn't work.²
That Jubilee Allstars ended up on the Sony-backed Lakota label testified to their inherent songwriting talents, exemplified by the aching early single from 1995, Don't Give Up On Me. Soon they were gaining plaudits in the UK music press: DJ Peel phoned up asking them to send him their single. ³Things like that were our vindication for the ridiculous idea that we had that we could be the Clash or the Rolling Stones,² says Fergus.
But for all their idealism, the McCormacks, now joined by their third brother, Barry, and the drummer Lee Casey, were only too willing to sign a big label deal; a move that has been a kiss of death to so many bands. Inevitably, the situation soon declined.
³It would have been better if it hadn't happened at all,² says Fergus. ³But having said that, it was hilarious. The amount of energy and money that was wasted. They were flying muggins here to London at a time when it wasn't cheap, so I could meet these music business executives and talk about our fabulous career.
³Our first album (Sunday Miscellany), you'd swear that was The White Album they were trying to produce, because we fought so much over that. But to this day I'm bloody glad we got Stan Erraught (the former guitarist with the Stars of Heaven) to produce that album and I'm bloody glad it sounds the way it does. And I'm bloody glad it annoyed all those people over there.
³We won that battle and completely lost the war. It was probably the wrong thing for the band but I wouldn't have missed that for the world.²
While it's true to say that the band's debut album was largely overlooked when it was released without any fanfare, many of their problems were self-inflicted. Jubilee Allstars' refusal to write a commercially attractive rock single resulted in what Niall calls ³downbeat, shambly records².
The group's erratic gigs also did little to broaden their appeal. ³Our biggest problem was that we had no quality control on the live front,² says Niall.
After being dropped, the band recorded the elegiac album Lights of the City and even improved on stage, with Rice and McDonnell replacing the departing Casey and Barry McCormack, who by then was the band's main songwriter.
³Barry didn't share our romantic notion of inability,² says Niall. ³He wanted to get better and present himself as well as you could, and I think he felt he didn't need a bunch of idiots to hold him back.²
The changed line-up is a key element on the new album, with Rice's fevered harmonica playing and McDonnell's strident drumming (not to mention his post-production work) adding to the band's raggedly confident feel.
³With all due respect to Barry, getting rid of the moany folk singer helped massively,² Fergus jokes. Musically at least, Jubilee Allstars, the band who couldn't play, have never been better than on their swansong. But there is no sense of regret at ending things on a high. For once, it seemed like the pragmatic thing to do.
³The evidence is there on the new record that we got better,² says Fergus. ³But how long do you go on doing that? Until you go we've reached a certain standard? Bands like the Thrills say: 'We're going to tour this album and we're going to sell it.' That's the mindset of bands who go for it full-time. And we just never had that.
³And I'm really glad that we never made it to the extent where it became a living, where it became something we had to do. I like the idea that it is the best one we did and rather than capitalising on the fact, we decided not to bother. Going back to the stupid romantic notions we always have had, it dovetails nicely.
³So we've came full circle. And I like to think that in years to come people will look back and say, 'They were an ornery, curmudgeonly bunch, but they did some good work'. I think our story is better than a lot of Irish bands'.²
The Struggle Continues is on Hi Tone records
The Sunday Times - Culture <![endif]>June 19, 2005
http://www.timesonline.co.uk/newspaper/0,,2774-1656199_2,00.html
JUBILEE ALLSTARS - THE STRUGGLE CONTINUES
It's five years since the last Jubilee's album, Lights of the City, a melodic, downtempo postcard from Dublin. This year, there's good and bad news for fans of their wistful brand of midnight melancholy. The good news is obviously the new album; the bad, that it's their last and this is a limited vinyl-only pressing of 300. The four-piece have always been on the cusp of great things and a Peel session a few years ago upped their profile in the UK. The line-up consists of two of the three original McCormack brothers, Brian Rice and drummer Cillian McDonnell. While every band hoisting guitars around their necks is unabashed about plundering the 80s (at least Crumb plumbed for Americana jangly pop-rock and not Gang of Four - again), the Jubilees have stepped back to the 60s and culled the best of the decade's references. On tracks like 'Down on the Street' and 'Hope We Meet', you can't help but think of hazy melodies of The Velvet Underground. On 'The Lonely Side', partly due to mellow harmonics, they work in some Beach Boys and some non-Moog Stereolab. It's not all nostalgic folk pop and a healthy dose of runaway loud guitars complement these sounds of solitude. Niall McCormack's poetics offer world-weary maxims of love and hope that linger after the record ends. Struggle or not, here's hoping that the Jubilee Allstars continue - Irish music would be lost without them. We Say: A tender, memorable album to bid farewell with.
Sinéad Gleeson
http://www.siglamag.com/musicreviews/0505/Jubilee-Allstars.php
<![if !supportEmptyParas]> <![endif]>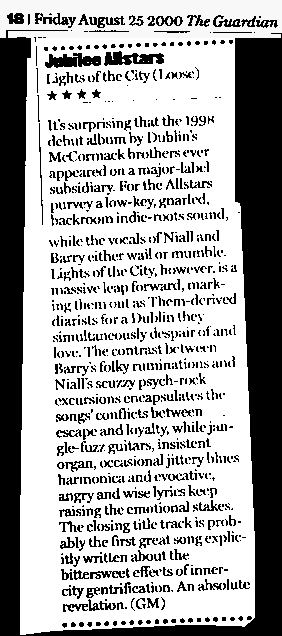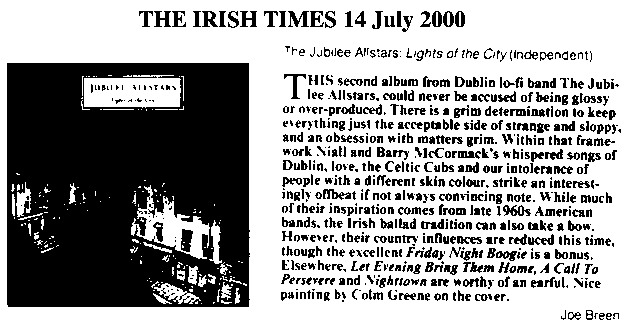 JUBILEE ALLSTARS - LIGHTS OF THE CITY
Irish band, The Jubilee Allstars, are beginning to become household names on the Irish music scene, with their appearance on the Frames tour EP Come on up to the house, as well as their early EPs and Sunday Miscellany, and it is never too long till you can catch them in their live guise somewhere. Yet they have never seemed to be a heavyweight presence, despite having a growing fanbase.
This year's release of their latest album Lights of The City though has sparked a quite a ripple of attention though, in both Irish media and also abroad in the NME amongst others. Their organic sound of country folk mashed up with blues and some inspirational keyboard by John Hegarty breezes through the mass of Radiohead wannabes and American punk surfers, that crowd the already overpopulated stage already.
The steady vocals of Mc Cormack compel the listener, making their point without the need to break into outrageous, despairing, falsettos to convey emotion. The anthemic whispers of Pray Loud (and with sorrow) linger throughout the soulful, upbeat let evening bring them home. The latter was originally pencilled in as the version that appeared on the Come on up to the house EP, but unhappy with the mood, they re-recorded it to create one of the centre pieces of the record.
Always bringing a piece of a chewed up Dublin debate everywhere they go, Lights of the city and Do you know what it is sirŠ serve a timely reminder of our changing views and times. In fact, parts of this album are steeped in a feeling of everything that Dublin has become, rather endearing to the listener and gives them a feeling of familiarity they can slip into, when post rock swoonings are too much to handle. Such a complete work is hard to find, without it slipping into repetitive, unoriginal, 'been done before' territory, but the beguiling air of tenderness that seeps through doesn't let the listener entertain that thought for a second. If it is laid back, mellow, heartfelt music you are looking for; you've just reached utopia.
<![if !supportEmptyParas]><![endif]>Review written by Michelle Dalton
http://www.eclectichoney.com/reviews91.html
<![if !supportEmptyParas]> <![endif]>
JUBILEE ALLSTARS - LIGHTS OF THE CITY
When a band designs its album cover as a Penguin Modern Classic you begin to suspect that they take themselves rather seriously. When they back this up with a record of heartfelt, sophisticated sketches of Dublin life some kind of mass acclaim would seem to be in order. Jubilee Allstars won't get this but they deserve all the critical praise going for this gem of an album. In the liner notes the McCormack brothers admit they've been 'neither popular nor profitable since 1993.' Who cares when the music's as good as this? Absolutely essential.
Review by Andrew Lynch
Reviewed on 29 June 2000
http://entertainment.ie/reviews/review.asp?ID=622&SubCat=CD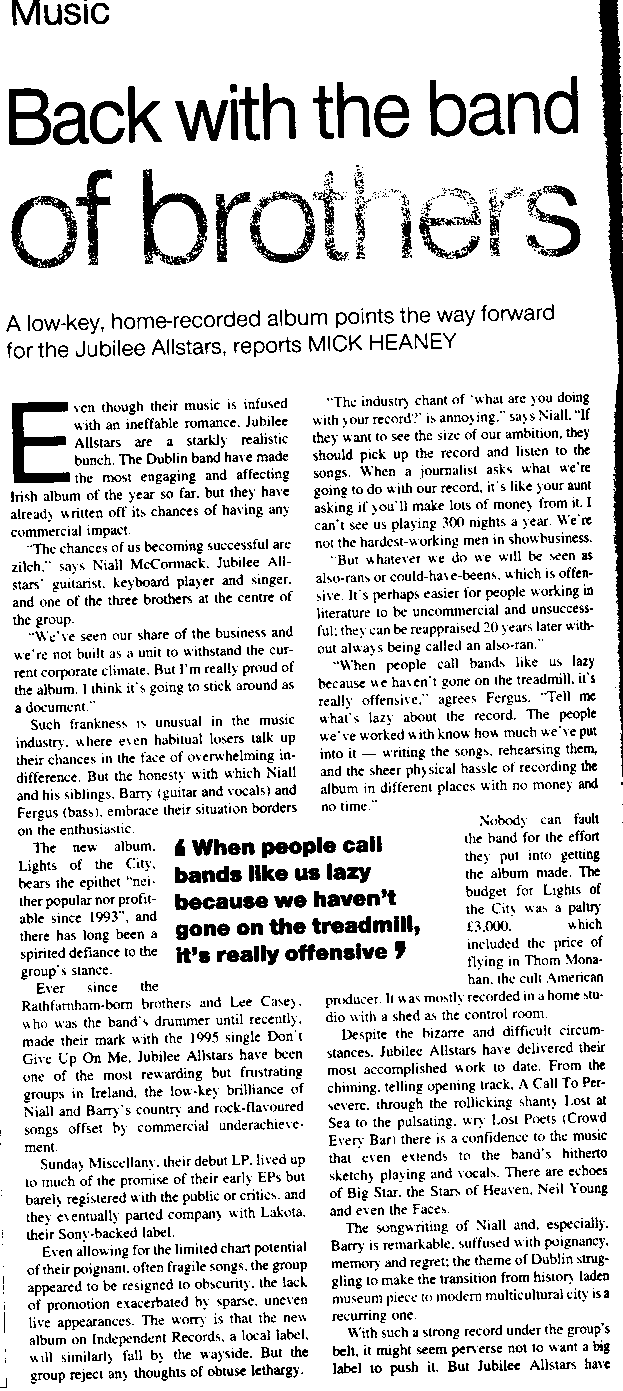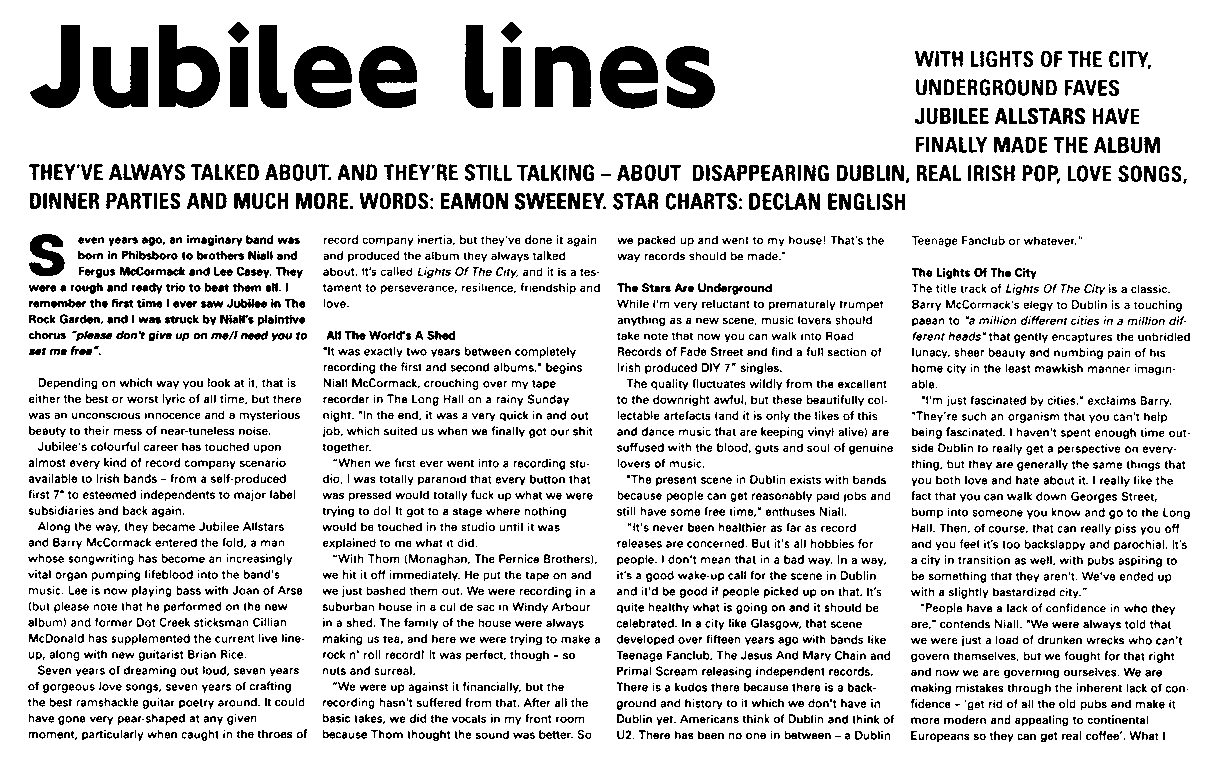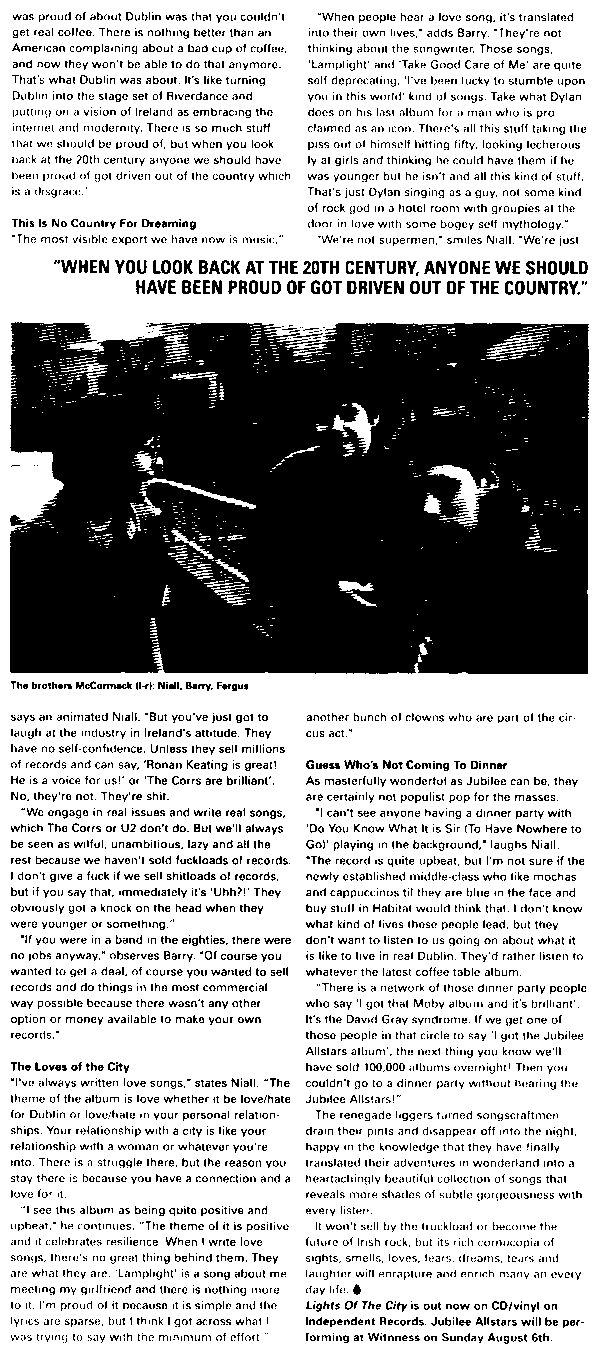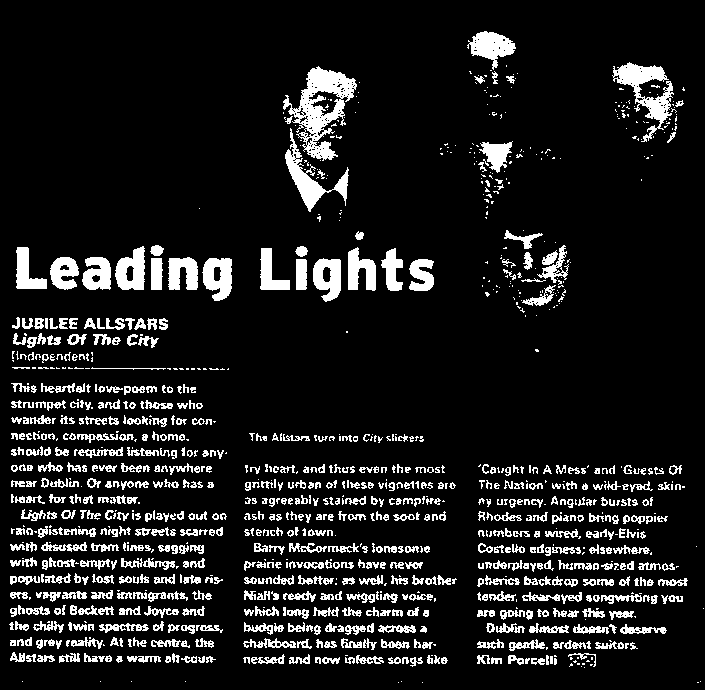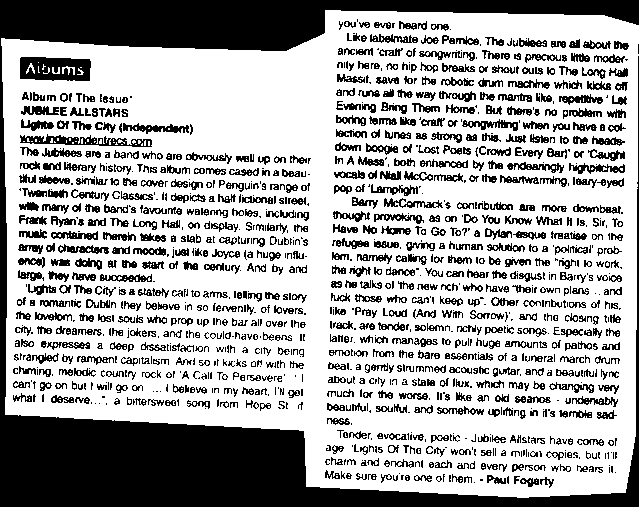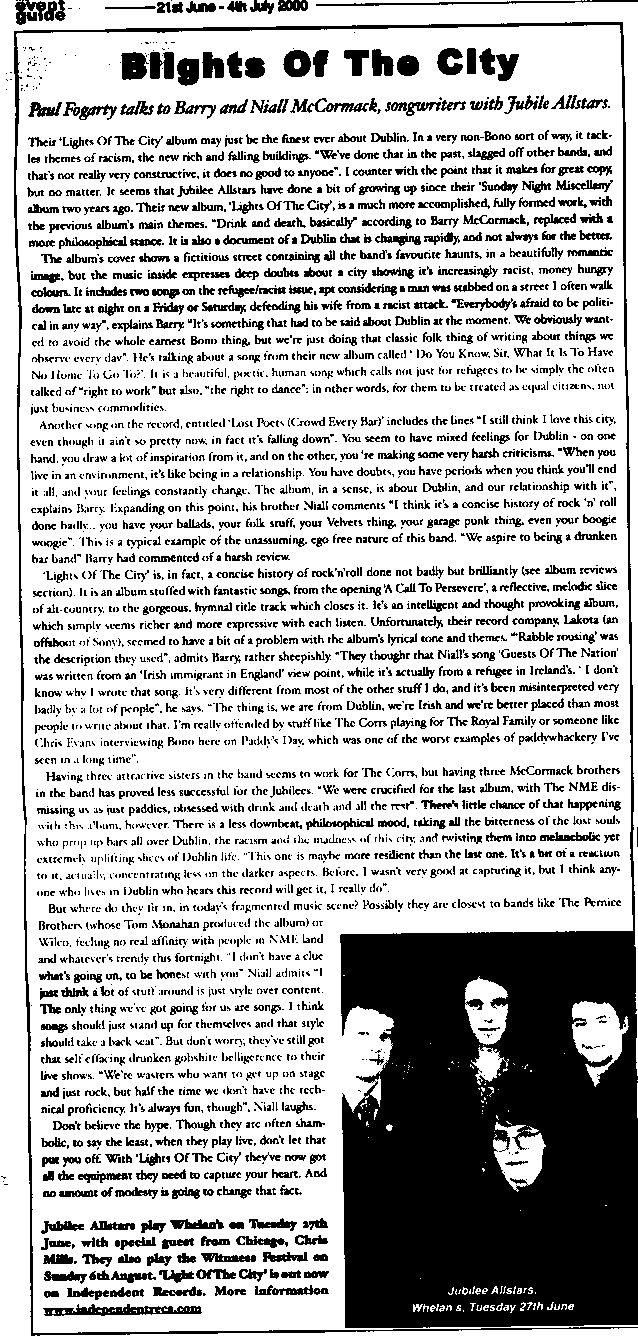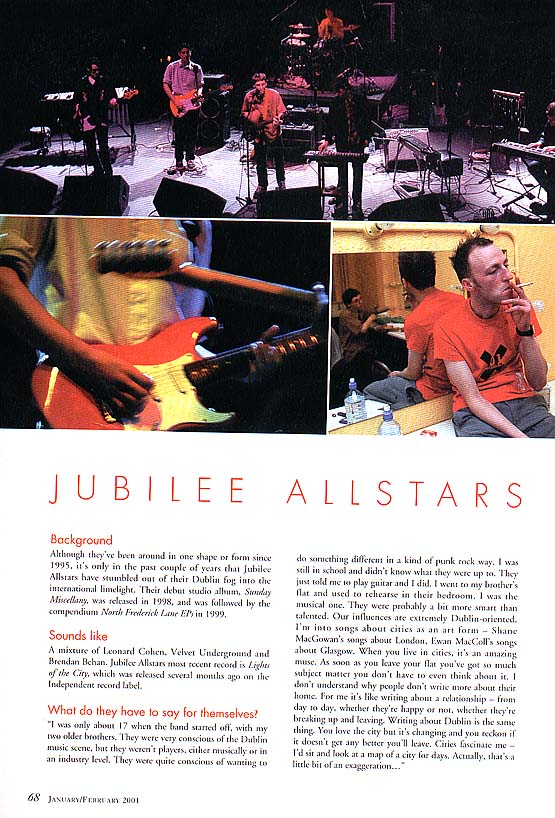 "With 'Lamplight', Niall McCormack serves up a beautifully bittersweet slice of uplifting melancholy, both lovelorn and lovestruck. One to snatch up, pronto. Plus there is another little jewel in this lovely little crown. Dot Creek's 'Cast' is a dreamy odyssey into spaced cowboy blues-territory. A superb package."
Eamon Sweeney. Hot Press 16.2.2000 (Release of the Fortnight)
<![if !supportEmptyParas]> <![endif]>
"Jubilee Allstars contribute one of Niall McCormack's finest, familiar by its wondrous vocal, the lovely romantic nostalgia of the words, the neat guitar that pierces its outro and the glowing organ throughout. It's a lonely hearts pop classic that gets you right in the mood for a whole new album. Dot Creek make their second vinyl appearance with a beautiful swipe at cosmic country.Lazy, jaunty, dreamy, 'Cast' is that first crack in the grey skies that signifies a Dot Creek summer on the horizon."
The Dublin Event Guide 19.1.2000 - 1.2.2000 (Single of the Fortnight)
<![if !supportEmptyParas]> <![endif]>
"A touch of Pavement crossed with the Frank & Walters is a rough assessment of Jubilee Allstars - that's to say jaunty pop witha quirky edge. A trebley guitar and background Hammond accompany a mildly diverting track. On the flip, Dot Creek's acoustic balld features a winsome slide and is all sweetly melancholic, but ultimately is unlikely to change your afternoon"
<![endif]>Record Collector March 2000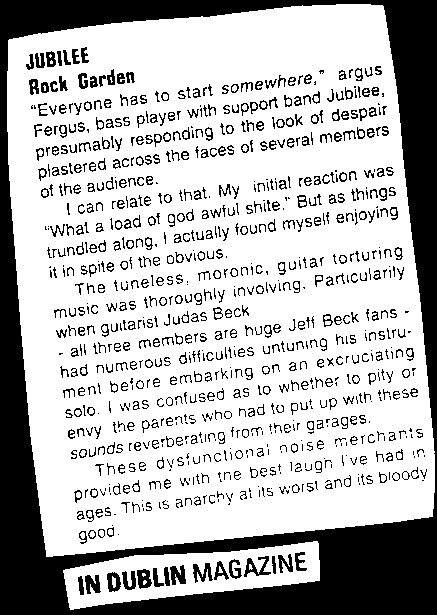 JUBILEE ALLSTARS - WHICH KIND
This EP, which takes its name from the opening track, is a wonderfully honest and open record. The straightforward simplicity and baring of emotions by the band results in a catalogue of compelling songs. The emotionally-charged title track's fragility sets the tone of the whole record, with McCormack's softly sung and soul-exposing lyrics. The band's country edged, simple pop formula succeeds in adding further sincerity to their lyrics, with stories of broken love, uncertainty and lack of confidence surely providing anthemic support to estranged soul.
Similar to the By the end of the night EP, this record sticks to the tried and tested musical patches of the country pop-rock defined in their previous work, creating equally beguiling songs. However it is a more accomplished and complete piece of work than the aforementioned EP, even though it is still a long way from the depths that the Jubilee's could plumb with perseverance. The music still lacks commitment to a certain path, and doesn't have enough focus, but the prerequisites for a great album all lie here waiting to be implemented.
Dreamy guitar flows through the harmonica lit Bitter Heart, a simple confession of troubled love. In fact, this EP could have easily been entitled 'Love', as the theme reverberates through all the tracks, aiding cohesion and continuity and resulting in a perfect exploration of all the emotions felt through unsteady love; uncertainty, blame, insecurity and self-defence.
<![if !supportEmptyParas]>Review written by Michelle Dalton
http://www.eclectichoney.com/reviews140.html
<![if !supportEmptyParas]> <![endif]>
JUBILEE ALLSTARS - BY THE END OF THE NIGHT
This is somewhat of a transitional stage for the Jubilees, with many questions to be answered, decisions to be made and a change of record label for the band to contend with. However it doesn't seem to be having too much of a side-effect on their music as the band show how to make meaningful pop songs, that come straight from the heart
The Hefner-esque Without You, sees Fergal take over on lead vocals and the melodic You Might Think has all the credentials to win a place on day time radio, with its mellow country edge. The EP shows promise, more than anything else, which will hopefully be fulfilled in the next EP, or album, that they release. All that's missing is a few finshing touches to some flawed edges. One gets the feeling the Jubilees have not exactly sorted out where they are coming from or where they are going to end up, and until they do the listener will remain in the dark as well.
They stick to what they know best, and once again their personal experiences and true emotion win out forming odes that would evoke empathy in any listener. It's a great soundtrack to any lazy summer. Hopefully their next album will be able to transcend the darkest, coldest and bleakest winter night.
Review written by Michelle Dalton
http://www.eclectichoney.com/reviews62.html