Tiler's Torment

---
Tiler's Torment is a jigsaw-like puzzle game for Windows 3.1+. (It will work fine on Win 95/98/NT4 also).
The purpose is simply to arrange a set of tiles in a fixed area (left of diagram below) so the colours at every edge match. You can change or maximise the window size to use more of the screen, so if the tiles in the diagram are a bit hard to see clearly, don't worry.)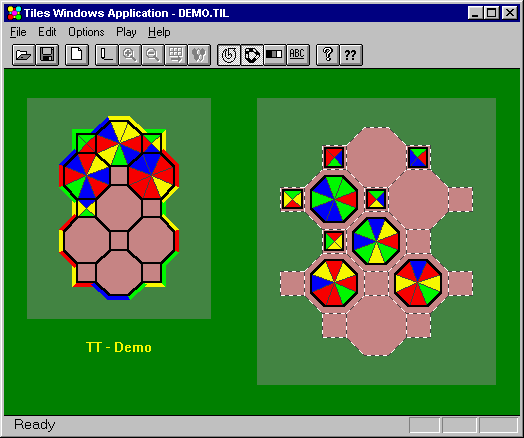 The tiles can be generated in ten different tesselations (patterns). You can edit the puzzles in many ways, creating your own patterns to any specifications you desire. So you have infinitely many puzzles, as hard or as easy as you want. Of course all the options you expect such as tile rotation and auto-solving are there - mostly accessable via the easy-to-use toolbar.

Tiler's Torment costs $15 to register. Alternatively, you can purchase both it and another puzzle game called

Detective Chess for the bargain price of $20. You can register one or both games online, or choose one of the other payment options described in the manuals.

To register any of the options, go

here.

Detective Chess also requires Windows 3.1+ or better; it does not require skill at chess! Although the two games are quite different, they will both provide an ongoing challenge, by generating an infinite number of puzzles at any chosen level of difficulty.

Why not download one or both of these challenging puzzles today? The shareware versions alone will give you plenty of entertainment, even if you do not wish to register!

Download Tiler's Torment V1.1 (321 Kb)

Back to Main Page More PC and Java games and puzzles!