TEMPLE LANE REHEARSAL STUDIOS
Situated in the heart of Dublin city, Temple Lane Rehearsal studios takes up the basement floor of the Music Centre in Dublin's famously cultural area Temple Bar.
After only two years in its new home it has established itself as Dublin's premier rehearsal space, due to its great value, excellent service, friendly staff and 14 years in the business.
Temple Lane Studios are happy to cater for bands at all levels of development. We have had some very famous clients, such as Van Morrison, Donal Lunny, The Corrs and The Frames, but young bands will get the same friendly treatment that well established acts receive, many of them being on our Residents list which guarantees them the same room every week.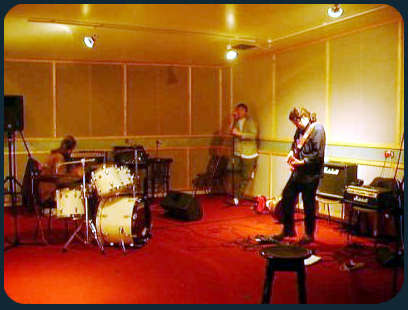 ROOMS
In total, we have seven rehearsal rooms of varying sizes.
Our biggest room (15 x 26, x 31, x 15, x181/2, x 10), is directly linked to our 24 track Digital Recording Studio, and is also ideal for pre production.
| | | |
| --- | --- | --- |
| Room 1 : 22'x13' | Room 2 : 20'x22' | Room 3 : 15'x26'x31'x15'x18'x10' |
| Room 4 : 21'x15' | Room 5 :21'x15' | Room 6 :21'x17' |
| | Room 7 : 19'x19' | |
All are rooms are fully heated and air ventilated, and with the exception of Room 3 all rooms have mirrors. Bands can enjoy a coffee break in the cafe upstairs which is linked to the rehearsal rooms by a lift, which can also be used to shift equipment down to the rehearsal rooms .

Equipment:
Temple Lane Studios can offer artists top equipment at very reasonable prices. We have Shure 58 and Sennheiser Evolution microphones, as well as Spirit Power Station and Studio Master mixing desks. All our guitar amps are in perfect condition, with a choice of Marshall JCM 900, Roland JC120, Trace Elliot bass amps and Pearl Export drum kits.

Opening Hours:
We are open seven days a week and offer two sessions daily, from 10.30AM to 5.00PM, and from 5.30PM to 10.30PM.

Rates:
Our rates are very reasonable. A room with a P.A. is £27. The guitar and bass amps are £6 each, and a drum kit is £8 (excluding cymbals). We also have special rates so younger bands can afford to rehearse. A room with a P.A, kit and two amps is £40 and the same with three amps is £45.
TEMPLE LANE REHEARSAL RATE CARD

SESSION TIMES:
10.30 AM to 5.00 PM
5.30 PM to 10.30 PM

RATES:
ROOM with P.A. : £27.00
GUITAR & BASS AMPS: £6.00 (each)
DRUM KITS: £8.00 (excluding cymbals)

SPECIAL RATES:
ROOM / PA / KIT / 2 AMPS: £40.00
ROOM / PA / KIT / 3 AMPS: £45.00


SPECIAL OFFER:
SATURDAY NIGHTS / OFF PEAK DAYS
ROOM / PA: £20.00
AMPS: £5.00 (each)
DRUM KIT: £6.00
ROOM / PA / KIT 2 AMPS: £35.00

EQUIPMENT AVAILABLE:
MOBILE RECORDING, PEARL EXPORT DRUM KITS,
GUITAR AMPS: FENDER TWIN, MARSHALL JCM 90
ROLAND JAZZ CHORUS - 120
BASS AMPS: TRACE ELLIOT
ALSO: D.J. DECKS, KEYBOARDS, SAMPLERS, DRUM MACHINES.

Contact:

If you wish to talk to anyone about the above information please don't hesitate to contact us.

FOR MORE INFORMATION: Tel: 01-670 9030 Fax: 01 670 9042
special discount for schools, colleges and sound training centre graduates