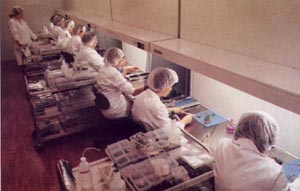 Plant Technology Ltd. was established in 1989 in the Innovation Centre in University College, Dublin. It arose from biotechnological research being conducted in the Department of Horticulture by two of the company's founders.
Extensive research has been conducted into micropropagation and horticultural systems. To date the company has experience of over 300 species of plants and has had many research breakthroughs in growing technology.
In 1992 Plant Technology Ltd. moved to a new facility in Wexford and is now the largest tissue culture Company in Ireland.
The company exports 97% of its production to markets including Europe, USA, Middle East, Australia, New Zealand and Japan.
Plant Technology has strong links with Universities and Research Institutes, maintaining it as a leading edge Biotechnology Company.
Areas of Business: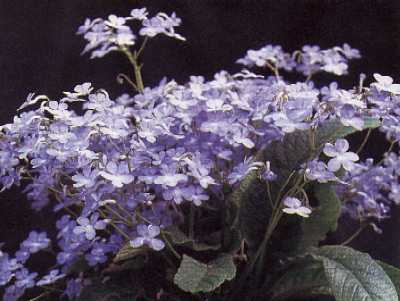 Micropropagation Production
Production of high quality micro-plants of:

Pot plants
Cut flowers
Plantation of Crops
Research, Consultancy and Training
Micropropagation systems
Horticultural systems
Plant Health
Technology Transfer
Establishment of purpose built laboratories in developing areas tailored to suit local market conditions for both food and ornamental crops.
Micropropagation Production
The Company produces over 2.5m plants per annum in its 6,000 square foot state-of-the-art laboratory in Wexford. These include a range of tropical foliage and flowering indoor plants, such as Calatheas, Streptocarpus and Gingers; plantation and food crops such as potato and date palm; and temperate outdoor ornamentals such as Primula and Cordylines, in addition produces a range of material on an exclusive contractual basis.
Research, Consultancy and Training
Plant Technology is involved in a number of Transnational, European Union, funded research projects on plant and systems improvement using genetic engineering technology.
Collaborative research has been conducted with major Irish Universities and Research Institutes. Currently the company is involved in three project involving food crops, ornamentals and micropropagation production systems. Projects have also been undertaken with UK colleges.

This allows the company offer a wide range of research, consultancy and training services including:

Micropropagation Systems:
Tissue Culture production systems are being developed for two major seed breeding companies. Plant Technology can offer this service to organisations, both State and Private.
Horticultural Systems:
Technological and traditional techniques have been combined to provide the optimum financial returns with regard to local limitations and conditions. Internationally experienced staff can provide innovative growing solutions appropriate to local needs.
Plant Health: Virus indexing and pathogen detection using molecular probes, elisa and conventional systems. We can offer this service as a consequence of our co-operation with various research institutes and universities. We can also assist with stock cleaning and pathogen elimination for tissue culture.
Technology Transfer: Plant Technology has experience in the establishment of tissue culture laboratories in Africa, the Middle East and Central America. This can involve the supply of tissue culture production stock, production protocols, design of laboratories and the provision of training and management expertise.
Much of this work can be assisted by ECIP and development bank programmes.