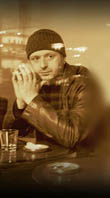 (singer/songwriter)
Steafan Hanvey was born in Downpatrick, Co. Down. The eldest of three children, Steafan remembers being surrounded by music from an early age. He is a product of a musical family, his mother and father both musicians have two albums in the traditional field. He was exposed to all kinds of music, everything from Bob Dylan, Van Morrison, Luke Kelly, Willie Nelson, The Johnstons, Paul Brady, Simon & Garfunkel, to Johnny Cash and of course, the Beatles.
As a child and travelling around the country with his father, Steafan remembers being asked to sing songs for people, which heīd learned at home. His mother was always singing in the house. His primary school teachers used to have him sing to his classmates. On his first day of music in secondary school he remembers his music teacher asking, "who is the singer then?". Steafan was among two of the names called out. Darren Conliff and Stef were thereafter assigned to quite a few dueting performances.
When it came to forming bands in his native Downpatrick, Steafan was usually asked to sing, as his friends were guitarists or drummers, or simply mic-shy. After a bit of experimenting with garage bands he teamed up with childhood friend Kenny Papenfus (now Relish) to form 50/50, a heavy rock outfit. He co-wrote the material together with Ken and recordings and gigs followed (Amongst others, Olan Magowan/CBS came up from Dublin to see them three times). After a couple of years of much frustration with the northern music scene (or apparent lack of it in those days) and lack of venues for original bands, Stef opted to continue his studies at university.
His third year of university took him to Seattle where he took the opportunity to study audio engineering. The Seattle scene was about to peak with the untimely death of Kurt Cobain. Stef says of those days, "the Seattle sound or scene played heavily when deciding where to study. I wanted to see what it was like for myself and I got a wonderful opportunity to see how life was at the other side of the window-at the mixing desk".
Although he found it an enriching experience, he said that he grew tired of Pearl Jam wannabees. It was part of his course to produce demos of local bands, and in the end, after completing his course, he realised that he missed what was going on at the otherside of the window, with the musicians.
In the summer of 1995 Steafan moved to Helsinki, Finland where he continued to study and worked as an English teacher and a barman. Call it the blues or whatever you will, but Finland (in particular a girl) got him writing again. "Thanks to a girl and a subsequent broken heart I started to write again, only this time alone - just me and the guitar. It really helped me get through that tough patch in Helsinki, I just found myself singing it out of me, and it worked!"
Having only himself to kick out of bed in the mornings, Stef started to demo some songs with Finnish friends. This continued until he decided in earnest to put a more comprehensive cd together. The result is the cd entitled "Sole". A selection of 5 of Steafanīs songs, which deal with everyday dilemmas-falling in love, falling on your ass, picking yourself up, attributing blame and all the rest.... So, be warned!
Steafan has been hosting his own radio show in Helsinki now for about 2 years. He specialises in bands and artists that people don't know much about, introducing existing as well as up and coming acts to Finnish ears.
Website: http://www.steafanhanvey.com