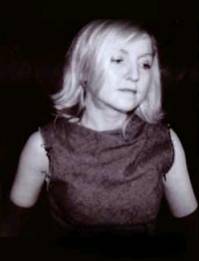 Dublin born NINA HYNES swapped her studies in Trinity College for a more reclusive existence in a weather-torn corner of Donegal in Northern Ireland. It was there where she learned to play guitar and developed her voice.
She then moved to France where she tested out her new-found talents by busking on the streets of Paris. After being offered recording opportunities and management, she decided to move back home for a reality check and to further perfect her passion.
She found a perfect outlet in the form of the singer/songwriter night at 'The International' in Dublin. She ended up playing alongside the likes of Christy Moore, Luka Bloom, Glen Hansard of The Frames, Mundy and Sony recording artist Paddy Casey. After gaining a sizeable fan base and crafting some of the songs that would eventually end up on her debut release, she was picked up by local independent record label Reverb Records. Reverb immediately put NINA and her band into the studio to help finish recording her debut-in-progress 'CREATION.'
Once released, it garnered amazing reviews from all corners.
"Like a vivid dream you're not sure was a nightmare or a lovely fantasy, it's an unshakable beautiful release" Amazon.com

"Brooding off-kilter pop. Her haunting feedback drenched productions could add atmosphere to a DMV waiting room" Seattle Weekly

"The last amazing find of 2000. A hauntingly powerful voice" HITS Magazine

"Hypnotic, Sexy, Eerie, Lush, Haunting" Rockpile
"It has been very organic," says NINA. "Our music has really spread through word of mouth. The critics have been very kind too, so that has really helped. It feels like a domino effect... every single gig, every single radio and T.V. performance makes a difference, even if it's only a few people who get introduced to the music."
Up until recently, 'CREATION' had only been available in Ireland. In America it was only available as an import and through Amazon.com, who voted it Number 44 in their TOP 100 RELEASES OF THE YEAR - it topped releases by Sparklehorse, Pavement, Stereolab, Underworld and Tindersticks.
'CREATION' finally got the full North American release it deserved late in 2000, where college radio immediately put it into the CMJ Radio Charts. To capitalize on this, NINA ventured out on a full U.S. tour in April 2001, which spanned the length/ breadth of the country; her enchanting electro- alternative sound in tow. The tour was immensely successful; Large turnouts at performances & in- store appearances, extensive press coverage and strong radio support (commercial radio even started to pay attention).
NINA made such an impression that she was invited back to play several Summer festivals including Seattle's Bumbershoot Festival, Portland's Bite Festival and the CMJ Music Conference. This coincided with another U.S. tour in August/ Sept 2001.
Back in her native Dublin, NINA regularly gets asked to support acts as far ranging as Stereolab, Cat Power and David Gray. She was recently invited to play as special guest to Roxy Music at The Point Theater in Dublin for their first appearance together in 18 years. While she seems to be eternally busy recording and playing live, she has some how found time to collaborate with several other interesting acts.
Two of her songs were included on an album by German Cellist Wolfram Hushcke released on BMG Classics (the album also features Marianne Faithful and Mimi Goese). She also collaborated on a yet to be released album with French avant-garde producer Hector Zazou and toured Europe performing with Zazou and composer Harold Budd.

In between a few live dates around Ireland, NINA HYNES is currently putting the finishing touches on 'STAROS,' her first album proper. It is reported to have over 11 musicians as guests, including members of successful Irish band The Frames. There are also reports of some very interesting and well-known collaborators participating in a re-mix of the album. 'STAROS' won't actually see daylight until early 2002, so most people will have to be satisfied with 'CREATION', which is available now in all good record stores in both Ireland and America. It is also available world-wide as an import, through Amazon.com and through this official Reverb Records website. In the meantime watch for more live tour dates.
Website: http://ninahynes.com