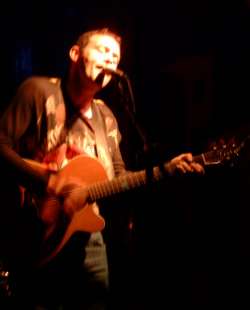 Solo Artist
everything's a circle
it always comes round
everything that goes up
always comes back down

Taken from the title track of Garrett Wall's new album "Gravity", this small lyrical extract perhaps sums up both the theme of Garrett's third studio album and his story to date.
Wall has indeed travelled full circle since the release of his debut album "All of the Above" in 1994 (Stark Records). Recorded and released in Slovenia, Korea and Ireland it debuted Wall's acoustic approach to songwriting and brought him critical acclaim and media attention in his native Ireland. In 1997 Wall signed a publishing deal with Peermusic Ireland and moved on to an edgier, electric sound with "Change" (1997, K-Tel Records), a much rockier and dynamic album scoring him two radio hits including "Sweet Mary" and "Listen To You" and the chart hit "Rainbox" (no.21 in 1998) culminating in a series of prestigous concerts throughout Holland, France, Spain, Poland, New York City and Toronto.
Wall relocated to Madrid in 1999 where he signed a new publishing deal with Peermusic Spain, continuing his relationship with the international publishing house. This in turn led to an album deal with Pressure Records, the in-house label of Peermusic, in conjunction with Cog Communications and a first-time co-production between the Dublin & Madrid Peermusic offices.
Apart from his work as songwriter and artist Wall has flourished in Spain as top session singer in the Spanish advertising industry where his voice has been featured in many of the nations leading advertising campaigns leading to a number of commercial releases of the very songs he has popularised.
Wall's third studio album "Gravity", recorded between April and October 2001 in Madrid, is without question his strongest work to date. The album demonstrates a palpable musical, lyrical and vocal maturity and offers a tasty stylistic hybrid of tunes ranging from the ethereal ("Long Overdue" / "These Days") to the edgy and introspective ("Gravity" / "Grow Up") yet not hesitating to rock admirably ("Hard to Be Happy" / "Watching You Fall" / "What You Need" ). The 11 track album, featuring a song composed and performed in Spanish, "Los Dias", is a hit worthy gem that firmly proves that Wall has finally come into his own.
Website: http://www.garrettwall.net