Castledermot
A monastery was founded here by St Dermot, the monastery was plundered on numerous occasions by the Vikings, there are a Round Tower and two of my favorite High Crosses, the North and South Cross, both of which are granite, plus the base of a third Cross.
On the right is The North Cross west face, showing Adam and Eve, Daniel in the Lion's Den, David with a Harp and the Sacrifice of Isaac amongst other scenes. Run the mouse over to see the Crucifixion scene and the twelve apostles on the east face.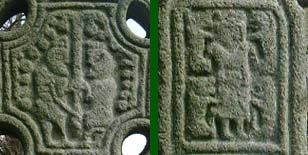 Above is a detail of Adam and Eve in the garden left and Daniel in the Lion's Den right.