Monasterboice
Monasterboice County Louth, The Monastery which was founded by Saint Buite, who died in 521 AD, contains two of the finest High Crosses in Ireland, both of these Crosses are made of sandstone and date to around the 9th century. The site also has a round tower, which is in excellent condition.
The Cross of Muiredach, west face, pictured on the right, gets its name from an inscription at the base of the west face, saying it was erected by Muiredach. The cross is around 5.2 metres high. The theme of the cross is Christ the King, Lord of the Earth. Below is a detail from the bottom of the west face showing Christ being mocked by Roman soldiers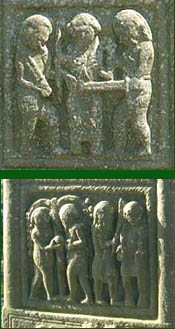 Above is a detail from the east side of the cross showing Adam and Eve in the garden and Cain Slaying Abel. In general the east side of a high cross will contain scenes from the Old Testament and the west side scenes from the New Testament.