Clonmacnois
The Monastery at Clonmacnois,Co Offally, was founded in the 6th century by St Ciaran, the monastery became a great centre of learning and many famous manuscripts were written here, including the Book of Dun Cow written in the 12th century. Amongst the many remains at Clonmacnois are two complete High Crosses plus the remains of another. The most famous being, the Cross of the Scriptures, also known as King Flann's Cross, is the centre-piece of the new interpretive centre, the crosses were moved from their original positions in 1991 and moved into the new centre then superb replicas were placed outside in the original positions. Pictured right is the west face of the Cross of the Scriptures, showing from the bottom panel up, Soldiers guarding the tomb of Christ, the arrest of Christ, Flagellation and in the centre of the ring the crucifixtion. this cross is decorated with figure sculpture on all four sides. On the centre of the East face is the Last Judgement, and one of the panels shows Christ with Peter and Paul, on the base are some riders and chariots.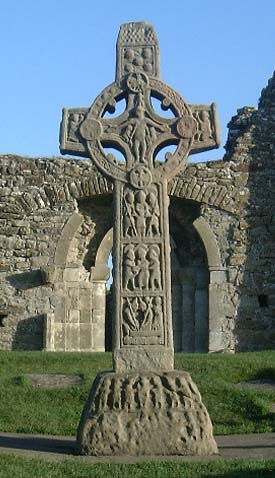 Cross of the Scriptures
Pictured right is a replica of the west face of the North Cross in the original position. This face is covered with interlacing. The North and South face bear figure sculpture. The actual cross can be seen in the interpretive centre.
I hope to add more pictures of the Crosses and Cross slabs in the near future and maybe some images from around this early monastic site.