The Most Beautiful Thing This Side of Heaven
---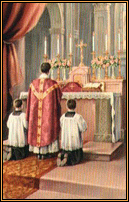 Do you remember the Tridentine Mass? Or would you like to know more about this 1500-year-old liturgy? Kieron Wood's 52-minute video The Most Beautiful Thing This Side of Heaven takes you step-by-step through the history and rubrics of this venerable rite.
Filmed by a professional television crew, this unique and inspirational production has won acclaim worldwide for its clarity and precision. Many priests have used the video to teach themselves - or to re-learn - how to celebrate Mass in the old Latin rite.
For students of liturgy, it is an invaluable tool. For older people, it recalls the glories of the past, while for young Catholics, it evokes the promise of the future.
Reviews
"It is - as one would expect from one of Wood's track record - a video of the highest professional quality. His ability to explain the intricacies of the rubrics in such clear and precise language will evoke the admiration of many who struggled with them many years ago. His measured presentation of his subject, reverent and unpolemical, can serve as an excellent starting point for a reflection on the liturgical losses and gains of the last thirty years. I recommend the video (and booklet) to all engaged in the study of liturgy."
Fr Sean Collins OFM, advisor to the International Commission on English in the Liturgy (ICEL)
"I do not hesitate to recommend with my fullest approbation this very fine and attractive production. I watched it recently with growing admiration for its clarity and precision. Everything is there for the priest who wishes to learn how to celebrate Mass in its age-old form, or for the layman who desires to understand better the many rubrics of this venerable rite. "
Very Rev Josef Bisig, former Superior General, Priestly Fraternity of St Peter
"However many recordings of the Tridentine Mass you may already possess, you must purchase this one. It is not only unique, but invaluable and inspiring. There cannot be a layman who would not be inspired by it, learn from it and have his faith and devotion to tradition deepened by it."
Michael Davies, The Remnant
"It is not merely a brilliant, but a most beautiful piece of work. I urge all who can to purchase it and show it as extensively as they can without delay."
Fr Paul Crane S.J., former editor, Christian Order
"The most interesting and spiritually educative footage that I have seen."
John Edwards, Pro Fide forum
"We can all learn from this video. You should buy it."
Crux Broadsheet
"The video and booklet are outstanding for acquainting anyone with the Tridentine Mass."
Fr C. Frank Philips CR, Pastor, St John Cantius Church, Chicago, USA
"This video holds educational and inspirational value for all who watch it. Recommended."
Crisis magazine
The Most Beautiful Thing This Side Of Heaven is available from Kieron Wood, 11 Grange Wood, Rathfarnham, Dublin 16, Ireland. The price of 35 euros (cheque or draft) includes a free 60-page booklet, post and packing.
(This video was originally produced as a PAL version, suitable for most European countries and their former colonies. The American NTSC version is available from Ecclesia Dei, PO Box 2071, Glenview, Illinois 60025-6071, USA, price $35 including handling and shipping. A French SECAM version is not yet available, but Kieron Wood would be happy to discuss the production of such a version.)
---