</P>
| | |
| --- | --- |
| Belvedere FC History | |
The Belvedere Football Club was formed in 1971 to provide a dedicated Football organisation for young people from the North Inner-city area of Dublin.
It started as a section of the Belvedere Youth Club, a body that had been in existence since 1918 and which is still thriving to this day.
The Club entered the Dublin and District Schoolboys League in the Season 1971/72 and had four teams in all in the 12G, 12H, 13E and 15D Leagues. Two people who are still connected with the Club, Vincent Butler and Fergus McCabe were involved in its formation.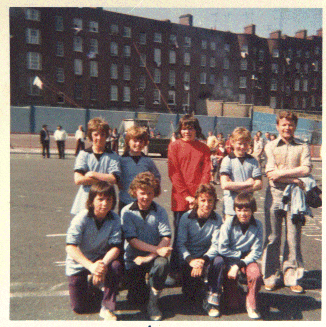 Gloucester Diamond 1972 Under11 seven-a-side tournament run by Belvedere with the old Summerhill tenament buildings, long since pulled down, in the background.
BACK ROW : Damian Gannon, Paul Kearns, Martin Ivory, John Daly, Vincent Butler.
FRONT ROW : Jimmy Scurry, Jodie Meade, Larry Hayden, Gerry Scully.


Over the next couple of years a number of local football clubs and football sections of area Youth Clubs merged with Belvedere and the Club became bigger and stronger.
Within five years of its birth Belvedere was to have a team in every 'Premier' section of the League from Under 12, then the youngest, up to Under 18. These mergers brought into the Club experienced soccer people such as Philip Manly and the late Marty Farrell.
The sides gradually increased in number each season and also improved in quality. As urban redevelopment occurred in the early seventies, large numbers of families from the North Inner-city moved to the new estates on the northern outskirts of the City and the Clubs catchment area grew as a result.
Today boys from all over the greater Dublin area and well beyond are members.
In 1974 we ran our first residential Coaching Holiday in Mosney holiday Camp and we continuously ran this event every year until Mosney closed as a holiday camp in 2002. These Courses have proved of vital importance in improving the standard of our players and in creating an overall club spirit.
The Club won it's first Major trophy In 1975, the under 15 Cannon Cup and we produced our first Republic of Ireland International, Jesse Travers at Under 15 level.
Since then, Belvedere Football Club has won more than one hundred major trophies, while 166 different players have won International caps for Ireland at various levels. These include Mark Kennedy, Curtis Fleming, Richard Sadlier, Thomas Butler, Stephen Elliott, Stephen Kelly and more recently Wesley Hoolahan at Full International level and 26 different players capped at Under 21 level.
Many other young Belvedere players of great talent are bubbling under the surface in the Youth and Reserve teams of British Professional clubs, and who knows how many more may emerge and make their debuts in the years to come.
Belvedere players also figure strongly in the eircom National League, with Thomas Morgan, Wesley Hoolahan and Gerard Rowe all part of Shelbourne's Championship winning squad in 2004. Also, managing teams in the eircom National Premier League are Belvedere players John McDonnell (Saint Patrick's Athletic ) and Stephen Kenny ( Derry City ).
Current Republic of Ireland Under 15's and 16's manager Vincent Butler was one of the founders of Belvedere Football Club, while Republic of Ireland senior coach Noel O'Reilly also managed many successful Belvedere teams in the 1970's and 80's.
Our History is on-going and we hope with hard work, expertise, learning and luck to continue improving our status and our facilities for the enjoyment and benefit of our members and as an overall contribution to the progress of Football in the Republic of Ireland.