Curtis Fleming 1996 ........... A Year to Remember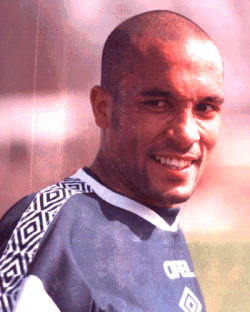 The season 1995/96 started in a very bleak fashion for Curtis. Near the end of the previous season a serious freak injury during training looked as if season 1995/96 would be a write-off. As Middlesboro were now a big spending club the prospect of big name defenders being bought in while he was out of action must have caused him great frustration at not being in a position to prove his own value.
Curtis made a recovery and started his comeback some nine months after his injury. At this stage his luck had started to change. Injury and suspension to some of the club's defenders meant that he was brought back into the first team earlier than expected. Curtis ensured by some impressive displays that he was once again a first choice player in Bryan Robson's plans.
When the panel was selected for the Irish Full International team to play against the Czech Republic there was again no sign of the name Curtis Fleming. With the wealth of established full-backs in the panel such as Denis Irwin, Jason McAteer, Gary Kelly, Jeff Kenna, Terry Phelan and Steve Staunton he had reconciled himself to the fact that his chance of ever gaining a full cap were very slim.Two events that happened were of benefit to Curtis. Terry Phelan pulled out of the squad through injury and Mick McCartby decided to go and see Middlesboro play Wimbledon, probably to view Kenny Cunningham whom he had just selected on the Irish panel for the first time. Curtis took the opportunity to show Mick what he could do, scored his first ever goal for Middlesboro and was their man of the match. Mick McCarthy had no hesitation in bringing him into the squad to replace Terry Phelan.
When Curtis played the full second-half for Ireland against the Czech Republic in Prague he added a full cap to those already won at Youth, Under 21, Under 23 and `B' International level. All who viewed the game agreed that he had an excellent debut and felt sure he would soon add to his collection of full caps.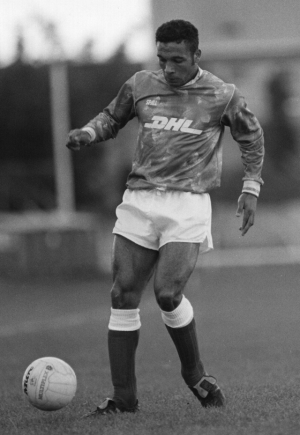 Those in Belvedere who have been with the club for the past twenty years or so will remember him as a good humoured, smiling nine year old with an Afro hair style and who played his football with great skill and determination. Over the years he developed his skill on a successful team run initially by Peader Behan and Paul Flynn and then by Peader and Gerry Mooney when Paul retired to further his own playing career.
This Belvedere team was a very successful one winning six major trophies while under 13 and under 18. While Curtis was always one of the teams most prominent players he did not gain international recognition at under 15 unlike his team mates Derek McArdle, Pearse Tormey and Andy Farrell who were capped at that age. However his ability was eventually recognised and he played youth international football for Ireland.
At the end of his under 18 season for Belvedere he signed for St.Patricks Athletic and his first competitive game for them was on the first team, a place he was to keep for almost four years before transferring to Middlesboro for around £100,000.
He is now on his seventh season with Middlesboro, he has always been a regular on the first team, he is one of the supporters favourite players winning their Player-of the-Year award and is highly thought of by the management team of Bryan Robson and Viv Anderson. He has since gone on to win nine caps for Ireland and still features in Mick McCarthys plans.
Everyone who knows Curtis is delighted that he continues to have such a successful career. He is one of football's `nice guys' who has had more than his fair share of personal tragedy. He married his English wife, Lucy, in June 1996 and now has two beautiful children.
No doubt Curtis will look back on 1996 as a year to remember. index