Club Players of the Year.
Michael McCann from the Under 18's and Richie Ryan from the Under 13's won the Club Player of the Year and the Young Player of the Year awards, respectively, for 1998. Both were very deserving winners Michael helping his team to the 17 Premier League title with excellent displays and regular goal scoring and Richie being a very key figure in our under 12's winning the 12 Premier League and All-Ireland Cup and achieving runners-up in the Dublin Cup. Congratulations to both of them.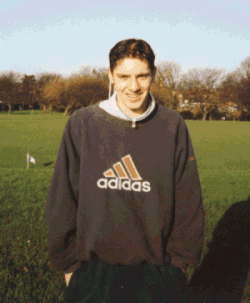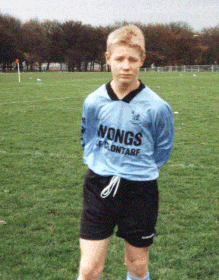 Michael McCann : Player of the Year Richard Ryan : Young Player of the Year
The Club Player of the Year trophy was first awarded in 1976 and the Young Player award was introduced in 1983 to cater for players in the under 14 and younger age groups.
While viewers to this site can get a full list of the winners on the Player of the Year page, it is interesting to look at the various winners over the years and see that in a lot of cases recipients of the awards came through to adulthood as accomplished players.
In the case of both awards, winners Ronnie Murphy, Johnny McDonnell, Derek Murray, Paul Fitzgerald, Gino Brazil, Brian Flood, Anto Brennan, Daryl Mooney, Anthony Mitchell, Darren O'Keeffe and Thomas Morgan all played regular first team football either in the League of Ireland or the Northern Irish League. While winners like Curtis Fleming, Kwame Ampadu, Ken Gillard, Stephen Roche and Mark Kennedy have all played first team football in the English League.
Other winners over the years while they may not have subsequently played senior football were very deserving of the awards and in a number of cases went on to concentrate on careers outside of football and continued their footballing in Junior or Intermediate grade or just played for fun. The main architect of this web site, Darren Moen, won the Senior award in 1996, and is now studying for a Computer degree at DCU. He plays Intermediate football for Moyle Park College.