The Blue Door B&B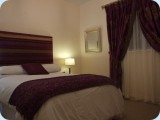 click to enlarge
Thank you for vistiing the Blue door Wexford We are redirecting you to Our New site Please wait or Click
here
if reload take more than 5 seconds.
The Blue Door
is probably the most central Quality Approved B&B in Wexford Town. Just stroll down the narrow streets from The Blue Door to Irish music pubs with local musicians, charming shops and top class restaurants. Wexford is a town steeped in history, its norman and viking heritage and narrow Georgian Streets give it a unique charm. Its night life, its Artistic Community and its many festivals give it a vibrancy known to few Irish towns. When you stay at The Blue Door all of this is on your door step.
Click
Here
to make your reservation
Blue Door proprietor Derrick Cooling, A qualified chef studied at the prestigious Cathal Brugha College in Dublin, Has worked in many fine Restaurants and Hotel's in Ireland and abroad.
He made Wexford his Home in 2005 and with the purchase of the Blue Door Turned his experience to running a B&B. He gave himself one simple goal to make The Blue Door a place he would want to stay in, offering quality at an affordable price.