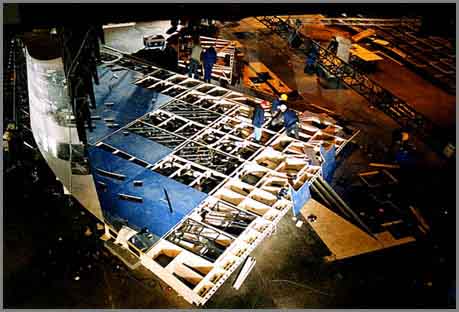 The venue for the 1998 Eurovision Song Contest was the Point Theatre in Dublin.

With theatrical flying facilities comprising 90+ counterweighted flying bars it afforded a very different approach to that of the Eurovision Song Contest 1993.

The primary concern was to create as much visual variety as possible throughout the 3 hours of live broadcast. To this end a central permanent set was designed to be complimented by several flown elements.

The main performance area was a triple layered rostrum swept back in a curve to join the flown centrepiece of the set. Built into the floor were camouflaged voids accommodating sound monitors, microphone cables and production lighting. Concealed lighting highlighted the layered edges.

Steel and gauze pieces were combined with side-emitting fibre optic and sculpted polystyrene in an ever changing configuration from performance to performance.

In addition to the physical changes to the set, five large video screens surrounded the stage onto which were projected animated forms echoing the flown elements.

Careful co-ordination between Director, Lighting Designer, Video Editor and Production Designer was vital to ensure a coherent an appropriate look for each performer and not least for the development of the dramatic opening sequence at the start of the show.